Mid Century Western Ranch Oak Style Plank Coffee Table with Bow Tie Detail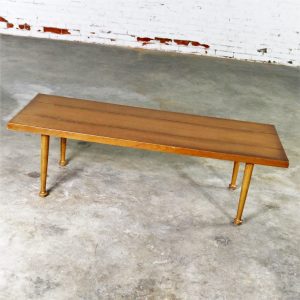 How great is this interesting mid-century coffee table? The top is comprised of oak planks that are tied together with a beautiful bow tie detail and the legs are a simple tapered round oak leg with a bulbus foot. Nothing more but nothing less and with oh so much style! Done in the manner of the fabulous and popular western style Ranch Oak pieces for the 1950s-1980s. This piece does have a style number on the bottom, but we have been unable so far to determine the maker. This would be incredible mixed in an industrial design setting or at your ranch or mountain home. Make it yours.
Price: $1,195
SKU: 414-TBL-047
Product Short Description :
Handsome plank coffee table with wonderful bow tie detail on its top. It is made in the style of the mid-century western furniture maker Brandt Ranch Oak and in fabulous vintage condition. Circa 1950s-1960s.
Coffee Table:
Height – 16 Inches
Width – 54 Inches
Depth – 20.5 Inches
Weight – 30 Pounds
Boxed Size:
Height – 9.5 Inches.
Width – 61 Inches
Depth – 22.5 Inches
Weight – 45 Pounds
Additional Information:
Dimensions: N/A
Weight: N/A
STYLE / PERIOD: Country, Mid Century
IN THE STYLE OF: Brandt, Ranch Oak
MATERIALS: Oak
DATE: Circa: 1950s, 1960s