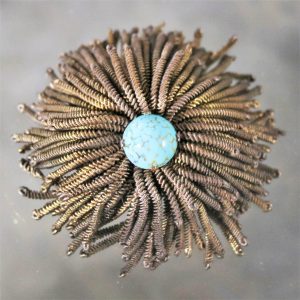 French Wire Fringe Spider Chrysanthemum Brooch Signed Déposé Goldtone Turquoise
Simply stunning! We saw this brooch on one of our treasure hunts and couldn't resist it. It reminds us of the incredible brooches designed by the French jewelry designer Pierre Sterlé or of the fine passemeterie jewelry so popular. This brooch in its gold tone metal is marked with Déposé and Made in France on its findings and made to resemble a spider chrysanthemum with its fascinating coiled wire fringe. It has a beautiful turquoise colored center setting which I personally believe to be a wonderful piece of glass as beautiful, in its own right, as real turquoise. It is completed with a double pronged clip with a heavy-duty spring mechanism as its fastener which is call a fur clip, although it would never be used on a fur as it would damage the pelt. This type of fastener was patented by Cartier in 1928 thus helping us date this brooch. A lot of information for a small treasure yet so beautiful. You must make it yours.
Price: $995
SKU: 414-FSH-023
Product Short Description :
Fabulous vintage French brooch made of twisted gold tone wire fringe to resemble a spider chrysanthemum with a beautiful turquoise colored setting in the center and marked Déposé as well as Made in France. It is in wonderful vintage condition. We have not tried to clean the metal as we love the age patina it has acquired over the years. Circa 1930s-1950s.
Brooch:
Height – 1 Inches
Width – 3 Inches
Depth – 3 Inches
Weight – 1.22 Ounces
Boxed Size:
Height – 3 Inches
Width – 6 Inches
Depth – 6 Inches
Weight – Under 1 Pound
Additional Information:
Dimensions: N/A
Weight: N/A
COUNTRY OF ORIGIN: France
IN THE STYLE OF: Pierre Sterle
MATERIALS: Goldtone Wire Fringe, Art Glass
SUBJECT: Spider Chrysanthemum
DATE: Circa: 1930s, 1940s, 1950s
SIGNED: Déposé