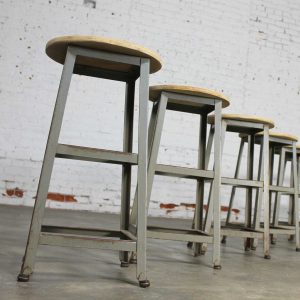 Industrial Counter Height Stools Vintage Patinated Steel with Distressed Wood Seats Set 4
These are awesome stools! Industrial and with loads of character. The steel bases which were originally painted khaki army green have now acquired a gorgeous rusty and worn age patina and the original plywood seats have lost a couple plies but have been sanded to a beautifully smooth and ready-for-anything state. They are counter height and would look fabulous around a large kitchen island or man-cave bar. We have priced them as a set but will entertain individual offers. These must be yours!
Price: $1,595
SKU: 414-SEA-057A-D
Product Short Description :
Vintage industrial counter height steel stools with fabulous patinated finish that only comes with age. In wonderful condition. The wood tops have been sanded and are ready to be oiled, clear coated, painted, or left natural to let age. Circa mid-20th century.
Stools:
Height – 24 Inches
Width – 12.5 Inches
Depth – 12.5 Inches
Seat Diameter – 13 Inches
Weight – 10 Pounds Each
Boxed Size/4:
Height – 28 Inches
Width – 28 Inches
Depth – 28 Inches
Weight – 80 Pounds
Additional Information:
Dimensions: N/A
Weight: N/A
DATE: Circa: Mid-20th Century
MATERIALS: Steel, Wood
STYLE / PERIOD: Industrial