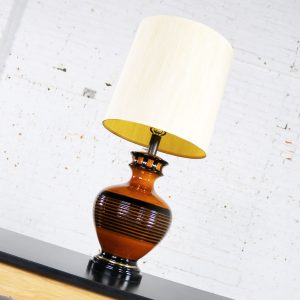 Large Brown and Black Md Century Modern Bulbous Ceramic Lamp
Wow wee! What a remarkable mid-century modern lamp. We adore its large size and bulbous ceramic base with the glossy brown glaze with black horizontal stripes. It retains its original silk-like drum shade which seems to suit it well; however, we will ship it to you with or without the shade and have priced it accordingly. It is ready to use. The wood base has been totally restored and repainted. It will be awesome in your mid-century modern ranch or completely at ease in your modern country home as well as in your large open industrial loft. Wherever you want to make a statement or need a bit of light, this wonderful lamp will be absolutely perfect. Make it yours!
Price: $1,195
SKU: 414-LTB-054
Product Short Description :
Handsome mid-century modern large brown and black bulbous ceramic lamp. It is in fabulous vintage condition. It wears its original nubby silk-look drum shade which is not without signs of age but still beautiful. The wood base has been restored and repainted black. We will ship with or without the shade, just let us know. Please see photos. Circa mid-20th century.
Lamp:
O/A Height to Top of Shade – 36 Inches
O/A Width with Shade –16 Inches
Height to Bottom of Socket – 22 Inches
Base Size – 8.25D Inches
Shade Size – 16×16 Inches
Weight with Shade – 12.8 Pounds
Boxed Size w/Shade:
Height – 36 Inches
Width – 20 Inches
Depth – 20 Inches
Weight – 30 Pounds
Boxed Size w/o Shade:
Height – 30 Inches
Width – 20 Inches
Depth – 20 Inches
Weight – 25 Pounds
Additional Information:
Dimensions: N/A
Weight: N/A
STYLE / PERIOD: MId-Century Modern
MATERIALS: Ceramic, Wood