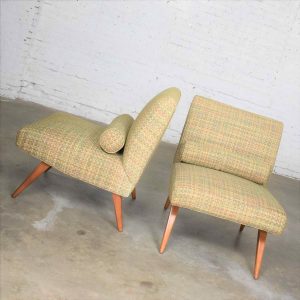 Mid Century Modern Pair of Slipper Chairs in the Style of Jens Risom Overall Chartreuse
Holy Cow! These are beautiful chairs. The style. The fabric. The color!! If you have been looking for a gorgeous show-stopping pair of accent chairs…you have found them. They have a close resemblance to the Jens Risom slipper chair. They are covered in an incredible tweed-like fabric with an overall chartreuse green coloration with undertones of yellow and a rosy red. The resulting blend of colors is simply stunning! Their simplistic shaped seats and back are held up by four maple splayed legs. The legs themselves are a work of art being tapered from a square at their top that gradually changes to round at their bottoms and the end of the taper. Each chair is accented with a self-upholstered round bolster pillow. We are so in love with them here at the shop. These will be the perfect pair of chairs wherever you need them whether in your living room, bedroom, or study. Just make them yours!
Price: $3,495
SKU: BEL-SEA-309
Product Short Description :
Handsome pair of mid-century modern slipper chairs in the style of Jens Risom. They are upholstered in an overall chartreuse green tweed-like fabric with undertones of yellow and rosy red. They are in fabulous vintage condition and ready to use. The wood legs have been restored but may still have age related signs of use and patina. Please see photos. Circa mid-20th century.
Chair Size:
Height – 32.25 Inches
O/A Width – 25 Inches
O/A Depth – 30.5 Inches
Seat Height – 16 Inches
Seat Width – 25 Inches
Inside Seat Depth – 22 Inches
Inside Back Height – 16 Inches
Weight – 32 Pounds Each
Crated Size:
Height – 43 Inches
Width – 31 Inches
Depth – 43 Inches
Weight – 200 Pounds
Boxed Size:
Height – 43 Inches
Width – 31 Inches
Depth – 43 Inches
Weight – 80 Pounds
Additional Information:
Dimensions: N/A
Weight: N/A
STYLE / PERIOD: MId-Century Modern
IN THE STYLE OF: Jens Risom
MATERIALS: Fabric, Maple
DATE: Circa: Mid-20th Century