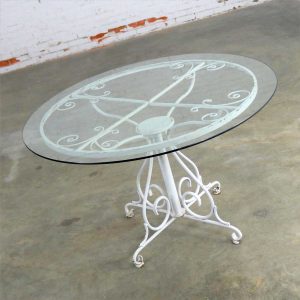 Mid Century Salterini Style Wrought Iron Round Patio Table
What a delightful patio table and just in time for summer and fall outdoor activities! We love this vintage wrought iron table with its graceful curves and spirals. It has just enough going on without being too busy. After tons of online research, we have not been able to determine the maker, but we feel it to be done in the style of John B. Salterini as we have seen similar pieces attributed to him. This table with its central pedestal base makes seating easy with no legs to get in the way. Its painted finish has lots of nice age patina if that is your cup of tea, if not, it can easily be painted whatever fabulous color you desire. We can provide that service before shipping for an additional charge. Just ask us. This fun table would be awesome in your sunroom or on your patio or deck. Just make it yours.
Price: $995
SKU: 414-OUT-007
Product Short Description :
Lovely Salterini style wrought iron round patio dining table with pedestal base and glass top. This circa 1950s set is in wonderful vintage condition. The white paint on the wrought iron is chipped and there are small rust spots on the metal, but gives it a wonderfully distressed look; however, that is easily remedied with new paint which we can provide for an additional charge. Please see photos. We will also ship without the glass top if you prefer. Circa 1950s.
Table:
Height – 28.75 Inches
Base Width – 31 Inches Diagonal
Top Diameter – 41.25 Inches
Glass Size – 48 x 3/8 Inches
Weight – 54.7 Pounds w/o Glass
Weight – 115.1 Pounds w/Glass
Crated Size w/Glass:
Height – 40 Inches
Width – 53 Inches
Depth – 53 Inches
Weight – 300 Pounds
Boxed Size w/o Glass:
Height – 33 Inches
Width – 52 Inches
Depth – 52 Inches
Weight – 150 Pounds
Additional Information:
Dimensions: N/A
Weight: N/A
IN THE STYLE OF: Salterini
STYLE / PERIOD: Mid Century
MATERIALS: Glass, Metal
DATE: Circa: 1950s