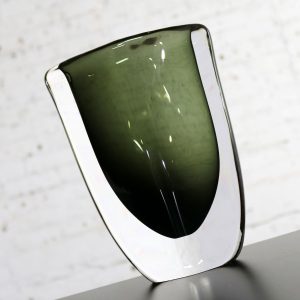 Orrefors Sommerso Vase by Nils Landberg Dusk Series Signed Smoke Gray Green
This is a fabulous piece of Scandinavian glass to add to your collection. Or maybe to begin it! This heavy blown glass vase is done in the Sommerso style which is a thick layer of clear glass encasing an inner colored layer. The colored layer in this case being a soothing gray green from the Dusk series by Nils Landberg for Orrefors. He did many shapes and sizes in this series. I would call this one a U or V shape. It is signed and numbered Orrefors 3538/4. It will look marvelous alone or in a group.
Nils Otto Thorsten Landberg (1907-1991) was a Swedish glass designer and artist. He attended art school in Goteborg in 1924. In 1925 he continued his studies at Orrefors School for Engraving and subsequently began working at Orrefors. First as an engraver and then in 1934 as an artist and designer. He remained at Orrefors until 1972. He is best known for his Tulip or Tulpan series, which is a thin walled elegant glass tableware series, and his Dusk Sommerso Series of vases and vessels. He debuted his work at the Paris Exhibition in 1937 and exhibited at the 1939 New York World's Fair. In 1957 he won the gold medal at the Milan Triennale. Nils Landberg is a renowned glass artist and represented publicly throughout Sweden; and in the collections of museums in Sweden, Germany and the United States.
Orrefors glassworks was founded in 1898 in Småland, Sweden on the previous site of an older iron works. Until 1913 they made primarily technical, medical and household glass. In 1914 under new ownership and management they began making crystal products including cut crystal and etched art glass. From that time forward Orrefors has excelled in all types of creative glass manufacture employing renowned artists and winning multiple awards. They continue production today primarily at their glassworks in Kosta using techniques developed in Småland. According to Orrefors official site no fewer than 15 people contribute to the production of a single piece of glass. It is no wonder Orrefors is a revered name among glass collectors worldwide.
This piece certainly caught our eye. We know you love it. Make it yours.
Price: $695
SKU: 414MAT-DEC-157A
Product Short Description :
Handsome Scandinavian Modern Orrefors Sommerso style vase by Nils Landberg from his Dusk series in smoke gray green coloration. This piece is signed Orrefors, some other letters I cannot read but I believe it to be the lettering code for Nils Landberg, and 3538/4. This piece is in wonderful vintage condition with no chips, cracks, or chiggers. It does have scratching and scuffs to the bottom as you would expect with age and use. Please see photos. Circa 1950s-1960s.
Vase:
Height – 7.5 Inches
Width – 5.5 Inches
Depth – 2.25 Inches
Weight – 4.7 Pounds
Boxed Size:
Height – 12 Inches
Width – 10 Inches
Depth – 7 Inches
Weight – 6 Pounds
Additional Information:
Dimensions: N/A
Weight: N/A
ARTIST: Nils Landberg
DATE: Circa: 1950s, 1960s
MAKER: Orrefors
MATERIALS: Art Glass
STYLE / PERIOD: MId-Century Modern, Scandinavian Modern