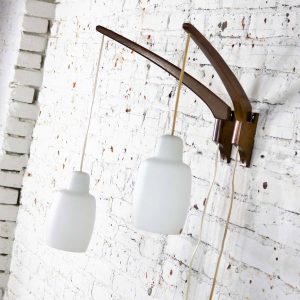 Pair Scandinavian Modern Style Teak & Glass Swing Arm Wall Lights After Uno & Östen Kristiansson
What a pair of fabulous wall lamps! They are Scandinavian Modern in design and are in the style of brothers Uno and Östen Kristiansson for Luxus. However, they are marked made in Yugoslavia on their wood bracket and with one Made in Sweden sicker on one of the glass globes. The pair are comprised of a teak wall mount and teak swing arm with a white power cord which runs through the bracket into the cased blown glass globes to a single socket. There is an in-line switch to easily turn the lights on and off. Plus, they each have a small reed lampshade which can either be used or not used whichever you desire. The length of the drop of the light is totally adjustable according to the cord length. These lights will be fantastic bedside lamps or on either side of your mid-century modern sofa.
We know you have just the place for this wonderful pair of wall lights. You need to make them yours.
Price: $1,195
SKU: 414-LTG-054
Additional Information:
Dimensions: N/A
Weight: N/A
IN THE STYLE OF: Uno and Östen Kristiansson for Luxus
STYLE / PERIOD: MId-Century Modern, Scandinavian Modern
COUNTRY OF ORIGIN: Yugoslovia, Sweden
MATERIALS: Reed, Art Glass, Teak
DATE: 1960s