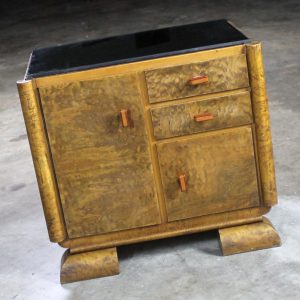 This is such a fabulous little Art Deco cabinet! The burlwood is just magnificent. We believe it to be mahogany but it is so hard to be sure the species. We are sure it is gorgeous. And so is the interior which is made with beautiful Honduran mahogany. You know it is a wonderful piece of woodwork when the interior is just as well made and detailed as the exterior! And just look at the dovetail joinery on the drawers. Plus, those bulbous pedestal style feet. Wow!! Now feast your eyes on the miniature Bakelite pieces of art attached as the handles and note that the wood under the piece of glass is just as gorgeous as the rest of the cabinet. This is a piece of Art Deco furniture to cherish and pass down to generations to come. You must make it yours.
Price: $2,995
SKU: LAR-CSG-002
Product Short Description :
Wonderful petit sized Art Deco side cabinet or commode in gorgeous burlwood topped with a piece of black glass and accented with beautiful Bakelite handles. It is in fabulous vintage condition.
Cabinet:
Height – 22 Inches
Width – 24 Inches
Depth – 14.5 Inches
Weight – 46.5 pounds
Crated Size:
Height – 29 Inches
Width – 30 Inches
Depth – 21 Inches
Weight – 76 pounds
We ask that the buyer cover freight. Please send zip code for a quote to your area: contact 
Additional Information:
Dimensions: N/A
Weight: N/A
STYLE / PERIOD: Art Deco
DATE: Circa: 1920s, 1930s, 1940s