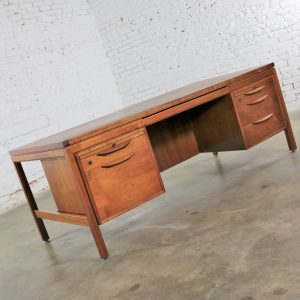 Scandinavian Modern Executive Desk in Walnut by Jens Risom for Risom Designs
If you are looking for an icon of mid-century modern – Scandinavian Modern design, look no further. And if you are wanting a beautiful and functional desk for your home or office, look no further. This fabulous desk was designed circa 1950s-1960s by the famed Jens Risom and produced by his company Jens Risom Designs, Inc. It is comprised of walnut, one of my favorite woods, in solid form and veneer. Even its sculptural drawer pulls are walnut. It boasts two stacks of drawers and a center pencil drawer. The right stack is made up of two equal depth drawers on the bottom topped by one more shallow locking drawer and a pull-out work surface. The left stack is made up of one lower file drawer topped by a shallow locking drawer and a pull-out work surface. The privacy panel and drawer stacks are recessed from the front of the desk providing knee space for visitors or a partner to be able to reach the work surface. Its sleek lines are simply stunning.
Jens Risom (1916-2016) was born in Copenhagen, Denmark and came by his talent naturally from his father, Sven Risom, a member of the school of Nordic Classicism. Risom trained as a designer under Ole Wanscher and Kaare Klint along with fellow classmates Hans Wegner and Borge Mogensen at the Copenhagen School of Industrial Arts and Design. He went on to business college before working and later relocated to Stockholm where, through his work at Nordiska Kompaniet, he was introduced to Alvar Aalto and Bruno Mathsson. In 1939 Jens emigrated to the United States. His big breakthrough and opportunity came when he met Hans Knoll. Together he and Hans launched an icon, Hans Knoll Furniture Company which is now Knoll International. Jens Risom is considered responsible for introducing Danish modern furniture to the United States. Fifteen of the twenty initial offerings in the inaugural Knoll catalog were designed by Risom. He left Knoll in 1946 and founded Jens Risom Design, Inc. You cannot obtain more true mid-century modern design classics than pieces by Jens Risom.
We will be sorry to have this piece leave our shop. So, hurry and make it easier. Make it yours now
Price: $7,495
SKU: BEL-CSG-089
Product Short Description :
Handsome Scandinavian Modern executive double pedestal desk in gorgeous walnut design by Jens Risom for his company Jens Risom Designs, Inc. It is in wonderful vintage condition. The desk has been restored and is beautiful overall but still retains signs of age and use. There are nicks and dings to the edges, and some dark splotches on a leg, along with some small imperfections still visible on its top. We consider this a beautiful, warm, and wonderful age patina. Please see photos. Circa 1950s-1960s.
Desk Size:
Height – 28.5 Inches
Width – 74.5 Inches
Depth – 36 Inches
Knee Space – 24.5-25.5h x 31w Inches
Weight – 195 Pounds
Crated Size:
Height – 35 Inches
Width – 80 Inches
Depth – 42 Inches
Weight – 400 Pounds
Additional Information:
Dimensions: N/A
Weight: N/A
DESIGNER: Jens Risom
MAKER: Jens Risom Design Inc.
STYLE / PERIOD: MId-Century Modern, Scandinavian Modern
MATERIALS: Walnut
COUNTRY OF ORIGIN: Denmark
DATE: Circa: 1950s, 1960s