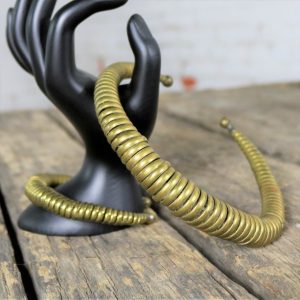 Vintage 1970s Brass Coil Choker Necklace and Cuff Bracelet
We are absolutely in love with these pieces of circa 1970s jewelry. They are very tribal looking with their brass patinated finish and chunky graduated coils and little ball tips. The choker has a 5.25-inch diameter, but its spring-like coils allow it to spring open to accommodate a larger neck as well. The diameter of the coil graduates from .25 inch at either end to .75 inch in the center.  The bracelet is 3.5 inches in diameter and fits me more like a bangle than tight like a cuff. It also springs open to easily slip onto your wrist and to accommodate a larger wrist as well. The diameter of the coil for the bracelet is the same .25 inch at either end and graduates to .5 inch in the center. This stunning set should be yours!
Price: $395
SKU: 414-FSH-020
Product Short Description :
Fabulous vintage brass coil choker necklace and cuff bracelet in wonderful vintage condition. We have left these pieces with their original patinated finish for you; however, you may decide to polish. Circa 1970s.
Choker Size:
Diameter – 5.25 Inches
Depth – .75 Inch
Bracelet Size:
Diameter – 3.5 Inches
Depth – .5 Inch
Boxed Size:
Height – 8.5 Inches
Width – 8.5 Inches
Depth – 4 Inches
Weight – 1.5 Pounds
Additional Information:
Dimensions: N/A
Weight: N/A
STYLE / PERIOD: Brutalist, Tribal
MATERIALS: Brass
DATE: Circa: 1970s