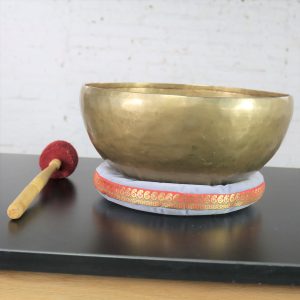 Vintage Bronze Hand Made Singing Bowl or Standing Bowl with Mallet on Pillow
This is an incredible singing bowl, standing bowl, or the many other names these beautiful pieces go by. This one has its own pillow and mallet and shows the hand-made details of the maker. It is said the standing bowl originated in China somewhere from 16th-11th century BC and were called Nao. Of course, this one is not that old! We believe it to be 20th century AD. Currently you find these more in sets than singles, but they were not produced as sets in the beginning but as single specimens or sometimes in chimed sets of three. Initially used in the Orient primarily in religious ceremonies, around the 1970s or possibly earlier, they became a modern-day phenomenon in the western hemisphere being used as musical instruments, ceremonial amenities, or alternative healing. To create its beautiful sound the bowl is struck with a mallet of varying types to create different sustained ringing. Therefore, another name they go by is struck bowl. Sound can also be generated by running a specific mallet around the inside rim in a continual motion to create a different type of vibration. And water can be added for tuning. Now, having told you all this……I would use this bowl as a gorgeous centerpiece or stunning décor and object d'art. So, whether you love it for its sound or its looks….you need to make it yours.
Price: $1,195
SKU: MAT-DEC-174
Product Short Description :
Beautiful singing bowl or standing bowl with a mallet and its playing pillow. Hand-made of bronze or bell metal and showing the makers hand. It is in wonderful vintage condition with awesome patina. Please see photos. Circa 20th century.
NOTE: We have several sets of these we are listing in the next few weeks so please look at our other offerings if you want a larger or smaller set.
Sizes:
Bowl – 5.5 H x 13 D Inches
Pillow – 2 H x 10.5 D Inches
Mallet – 12L x 2.5D Inches
Weight – 6.7 Pounds All
Boxed Size:
Height – 10 Inches
Width – 17 Inches
Depth – 17 Inches
Weight – 10 Pounds
Additional Information:
Dimensions: N/A
Weight: N/A
DATE: Circa: 20th Century
MATERIALS: Bronze, Fabric
STYLE / PERIOD: Asian