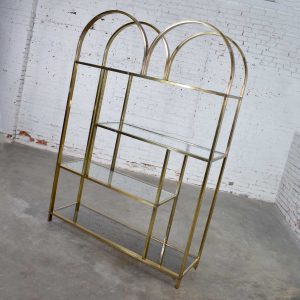 Vintage Modern Double Arched Etagere Display Shelves Brass Plated and Glass
Double your pleasure with this fabulous asymmetric double arched etagere. It is comprised of nice heavy rectangular tube metal with a brass plating over chrome. It has a double arched top with a full width glass shelf at the bottom of the arch. The bottom shelf is full width as well and of smoked glass to limit the view of the floor. The two shelves in between are staggered with one justified left and one justified right. This staggering provides two spaces for very tall vases or pieces of sculpture to be displayed. It is an incredible display unit that has so many possibilities of use. Since it is finished all around it would be an ideal room divider too. Officially modern in style it is close on the tails of the mid-century modern era and will blend well there too. It would also be stunning mixed in with your Hollywood Regency pieces and in juxtaposition with a traditional look. We've fallen in love with it here at the shop. We know you have too. Make it yours!
Price: $2,295
SKU: 414-CSG-114
Product Short Description :
Handsome brass plated chrome modern double arched etagere or display shelves. The bottom shelf is smoked glass and the others are clear. It is in wonderful vintage condition. The brass plating is distressed and worn in several places giving a very nice patina. The glass shelves may have small scratching but no chips. Please see photos. Circa 1970s.
Etagere Size:
O/A Height – 77.5 Inches
O/A Width – 54.5 Inches
O/A Depth – 17 Inches
Size of Top & Bottom Shelves – 53W x 13.75D Inches
Size of Middle Shelves – 40W x 13.75D Inches
Inside Size of Two Tall Areas – 36.25H x 12.25W Inches
Height Between Shelves – 17.75 Inches
Two Arch Space Sizes – 17.25H x 22.75W Inches
Weight – 110 Pounds
Boxed Size:
Height – 83 Inches
Width – 59 Inches
Depth – 22 Inches
Weight – 150 Pounds
Crated Size:
Height – 84 Inches
Width – 60 Inches
Depth – 27 Inches
Weight – 260 Pounds
Additional Information:
Dimensions: N/A
Weight: N/A
STYLE / PERIOD: Modern
MATERIALS: Brass Plate, Metal Tube, Glass
DATE: Circa: 1970s