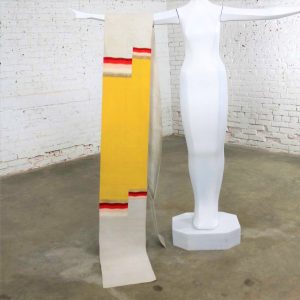 Vintage Silver & Yellow Silk Japanese Obi with Red Gold Orange White Geometric Design
This exceptional Japanese obi will display fabulously whether on a wall as an art piece or on yourself as wearable art! Made of a beautiful heavy silver metallic and yellow woven silk which is partially self-lined and adorned with a red, orange, gold, and white integrated design woven into the silk. As well as displaying this gorgeous work of art on our walls at the shop we have also used it as an interesting table runner or displayed over the back of a chair or sofa. Just make this extraordinary piece yours and let your imagination soar!
Price: $895
SKU: MEN-FSH-025
Product Short Description :
Handsome vintage Japanese obi silver and yellow silk background with red, orange, gold, and white geometric woven design. It is in wonderful vintage condition. Please see photos. Circa mid-20th century.
Obi Size:
O/A Length – 137.25 Inches
Length of Lined Area – 45.5 Inches
Length of Halved Area – 13.25 Inches
O/A Width – 11.75 Inches
Width of Halved Area – 6 Inches
O/A Thickness – >.25 Inches
Weight – 1.3 Pounds
Boxed Size:
Height – 5 Inches
Width – 24 Inches
Depth – 16 Inches
Weight – 5 Pounds
Additional Information:
Dimensions: N/A
Weight: N/A
STYLE / PERIOD: Asian
COUNTRY OF ORIGIN: Japan
SUBJECT: Obi
DATE: Circa: Mid-20th Century