Vintage Windsor Blackened Teak Outdoor Armchairs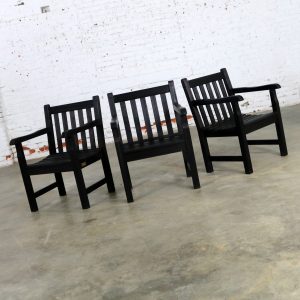 These are incredible outdoor teak chairs! Their natural teak has been changed to a deep rich black with an application of pigment dye. So beautiful, versatile, and a modern departure from the natural teak. We have personally had a set of these outside without any maintenance for 10 years and, although could use some now, have remained very sturdy and beautiful. The deep black has aged to a gorgeous silvered black. We have a total of three already dyed black but if you would like more we do have many natural teak chairs listed which we can dye for an additional charge. We also have side tables. Just contact us with quantity for pricing. You should make these yours today.
Price: $495
SKU: 414-OUT-003A-C
Product Short Description :
Handsome Windsor blackened teak outdoor patio or deck armchairs. There are three vintage chairs in black and we have priced them per/chair. These are in very sturdy condition and have had a fresh application of black pigment dye added to their finish. Circa late 20th Century.
Chair Size:
Height – 33.25 Inches
Width – 23 Inches
Depth – 23.5 Inches
Seat Depth – 17.75 Inches
Seat Height – 15 Inches
Arm Height – 25.25 Inches
Weight – 36.8 Pounds Each
Crated Size One Chair:
Height – 36 Inches
Width – 29 Inches
Depth – 29 Inches
Weight – 175 Pounds
Crated Size Two Chairs:
Height – 40 Inches
Width – 31 Inches
Depth – 33 Inches
Weight – 200 Pounds
Crated Size Three Chairs:
Height – 48 Inches
Width – 63.5 Inches
Depth – 33 Inches
Weight – 280 Pounds
We ask that the buyer cover freight. Please send zip code for a quote to your area: contact 
Additional Information:
Dimensions: N/A
Weight: N/A
MAKER: Windsor Designs
COUNTRY OF ORIGIN: Indonesia
MATERIALS: Pigment Dye, Teak
STYLE / PERIOD: Outdoor
DATE: Circa: Late 20th Century