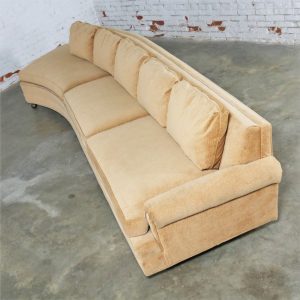 Extra Long Curved Single Arm Sofa Style of Harvey Probber
What a long luxurious sofa to nap on!! Or entertain a roomful of guests. This long low curvaceous sofa is done in the style of famed designer Harvey Probber. It has been beautifully recovered in a caramel colored textured velvet. The fabric texture has a wave effect which somewhat mimics the curve and softness of the sofa which is comprised of four rectangular seat cushions and five back pillows. It has a single rolled arm on its left end with the right end having no arm and the seat portion extending beyond the back and curving slightly forward. Simply stunning! This extra-long sofa is on casters for ease of movement. It looks at its best when floating in a room or in front of a fireplace and its transitional styling lends itself to a modern or traditional décor. You just need to make it yours and imagine the possibilities.
Price: $7,495
SKU: 414-SEA-095
Product Short Description :
Gorgeous extra-long slightly curved single armed sofa on casters in the style of Harvey Probber. This sofa is in wonderful newly recovered condition in a beautiful textured caramel colored heavy velvet fabric. Back pillows are polly filled and the seats are foam and polly. Circa 1960s-1970s.
Sofa Size:
Height w/ back cushion – 31 Inches
Height w/o back cushions – 26.5 Inches
Width – 144 Inches
Depth – 47 Inches
Seat Depth – 20 Inches
Seat Height – 17 Inches
Arm Height – 20 Inches
Weight – 250 Pounds
Crated Size:
Height – 34 Inches
Width – 150 Inches
Depth – 53 Inches
Weight – 750 Pounds
Additional Information:
Dimensions: N/A
Weight: N/A
IN THE STYLE OF: Harvey Probber
STYLE / PERIOD: Hollywood Regency, Mid Century
MATERIALS: Velvet
DATE: Circa: 1960s, 1970s