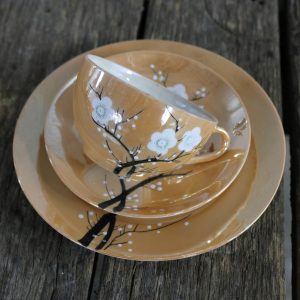 Japanese Peach Lusterware Cherry Blossom Design Luncheon Set for Four
What a lovely little luncheon set for four. It is in very, very good condition, made in Japan, and circa 1920s-1950s. It's peach colored lusterware glaze is beautifully hand decorated with the most delicate cherry blossom design and its thin porcelain structure is light as a feather making it almost transparent. Lusterware or Lustreware is a type of pottery, porcelain, or china with a metallic glaze that gives an iridescent effect which is produced by metallic oxides in an overglaze finish. Lustre glazes were first known to be applied to pottery during the 9th century in Mesopotamia. This set with its charming color and design will grace your table handsomely. You must make it yours.
Price: $395
SKU: 414-TOP-037
Product Short Description :
Gorgeous set for four peach lusterware Japanese luncheon set in the cherry blossom design. Comprised of four luncheon plates, four cups and four saucers. All are in wonderful vintage condition with no chips, cracks, or crazing. Circa early to mid-20th century.
Luncheon Plates:
Height – .75 Inches
Diameter – 7.5 Inches
Cups:
Height – 2.25 Inches
Diameter – 3.25 Inches
Saucers:
Height – .75 Inches
Diameter – 5.5 Inches
Boxed Size:
Height – 17 Inches
Width – 16 Inches
Depth – 16 Inches
Weight – 9 Pounds
We ask that the buyer cover freight. Please send zip code for a quote to your area: contact 
Additional Information:
Dimensions: N/A
Weight: N/A
STYLE / PERIOD: Asian
COUNTRY OF ORIGIN: Japan
MATERIALS: China
LINE/COLLECTION: Lustreware
DATE: Circa: Early 20th Century, Mid-20th Century
SUBJECT: Luncheon Set