Collection of Five Vintage Mexican Folk Art Hand Carved Wood Masks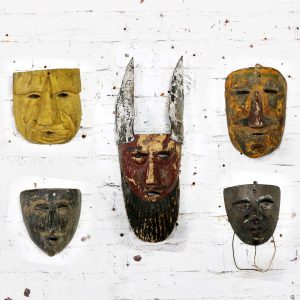 These are fantastic! And you better make them yours quick before I change my mind. This is a collection of five hand carved folk-art masks from Mexico. They are in varying sizes and colors and types. Four have been painted. One was only stained. One has a carved beard and leather horns, or ears, or maybe it's a crown. I'm not sure what area of Mexico these are from and whether they were ever danced or were just made for tourist trade, but they are incredible. And will make a fabulous statement hanging in your home whether as a group or singly. Truly an unquestionable work of art. Make them yours.
Price: $1,995
SKU: LAH-DEC-101
Product Short Description :
Fabulous vintage collection of five Mexican hand carved wood folk art masks. These make a wonderful wall collage. They are all in varying degrees of condition, but all have nice age patina including worn paint, chips, and dings. Circa 1950s-1970s.
Masks:
Mask 1 – 5 H x 6.5 W x 3.75 D Inches
Mask 2 – 8.25 H x 6.25 W x 4.5 D Inches
Mask 3 – 7.25 H x 6.5 W x 6 D Inches
Mask 4 – 7 H x 6.5 W x 4.25 D Inches
Mask 5 – 6.5 H x 6 W x 3.5 D Inches
Boxed Size:
Height – 16 Inches
Width – 23 Inches
Depth – 21 Inches
Weight – 6 Pounds
Additional Information:
Dimensions: N/A
Weight: N/A
STYLE / PERIOD: Folk Art
MATERIALS: Wood
COUNTRY OF ORIGIN: Mexico
SUBJECT: Mask
DATE: Circa: 1950s, 1960s, 1970s