Unmatched Pair Etched and Enameled Cast Brass Vases Kashmiri Indo Persian Monumental Size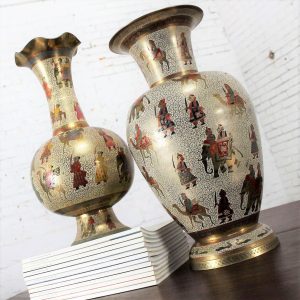 These extra-large cast brass vase is absolutely gorgeous! Although unmatched in shape, one is a footed Phoenix Tail shaped and the other is an Alter Style shape with ruffled lip, both are monumental in size and are adorned with the same wonderful designs. Their background is delicately and intricately etched and then enameled. The foreground is adorned with elephants, camels, and horses mounted by handsome Kashmiri Indo Persian warriors toting swords and wearing the beautiful and colorful clothing and headdresses of the Indo Persian peoples. This is an extraordinary pair, meticulously made, and in fabulous condition. They will make a magnificent addition to your home!
Price:
SKU: MOS-DEC-001/002
Product Short Description :
Monumental unmatched pair of vintage cast brass Kashmiri Indo Persian vases. Elegantly etched and enameled. In excellent condition circa 20th century.
Alter Style Ruffled Top Vase:
Height – 19 Inches
Diameter – 9.5 Inches
Weight – 10.2 Pounds
Footed Phoenix Tail Shaped Vase:
Height – 19.5 Inches
Diameter – 10.5 Inches
Weight – 14.4 Pounds
Boxed Size:
Height – 26 Inches
Width – 30 Inches
Depth – 17 Inches
Weight – 35 Pounds
Additional Information:
Dimensions: N/A
Weight: N/A
STYLE / PERIOD: Kashmiri Indo Persian
MATERIALS: Enameled Metal, Brass
DATE: Circa: 20th Century