Saguaro Cactus Window Grills Vintage Cast Aluminum Pair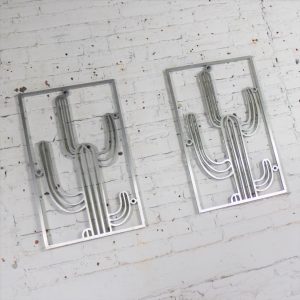 Wow are these ever cool! Incredible pair of vintage window grills comprised of cast aluminum and made with the image of a Saguaro cactus as the grate. I can just see these on a circa 1950s home in Santa Fe or Palm Desert, can't you? Don't worry, though, about having a window the size for these as they will look equally as fabulous as wall décor. Not a clue who the maker or designer of them is, but who cares when something is as interesting as they are? Make them yours.
Price: $1,395
SKU: 414-DEC-105
Product Short Description :
Fabulous pair of cast aluminum window grills or grates depicting Saguaro cactus. They are in wonderful vintage condition. Circa 1950s.
Window Grill:
Height – 26 Inches
Width – 16 Inches
Depth – 5/8 Inches
Weight – 5.6 Pounds Each
Box Size:
Height: 30 Inches
Width: 20 Inches
Depth: 5 Inches
Weight: 16 Pounds
Additional Information:
Dimensions: N/A
Weight: N/A
STYLE / PERIOD: Modern Country, Southwestern, Western, MId-Century Modern
MATERIALS: Cast Aluminum
DATE: Circa: Mid-20th Century