2 Italian Murano Glass Dishes Attributed to Fratelli & Toso & 1 Scandinavian Bowl by Kedelv for Flygsfors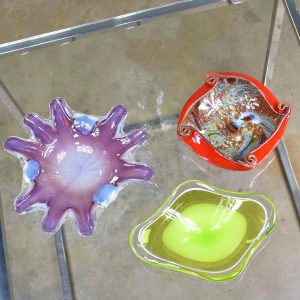 Here for your pleasure are three fantastic pieces of mid-century modern art glass. We were going to sell these as a set of three but have decided it will be better to offer them to you per piece. There are two Italian Murano glass bowls attributed to Fratelli and Toso. One is cased in the most gorgeous color of red I believe I have ever seen with its interior in multi-color tutti frutti. Absolutely stunning! The second Fratelli and Toso attribution is the beautiful purple splash or sea urchin shaped dish with a white cased underside. Another showstopper. The third piece is a signed Scandinavian bowl in an awesome chartreuse green done by Kedelv for Flygsfors. This is a phenomenal grouping and would be incredible displayed together so maybe you should purchase all three. If you are so inclined contact us for a group price. Otherwise pick red, purple or green and make one yours!
Price: $595
SKU: 414-DEC-230
Product Short Description :
Three gorgeous pieces of art glass; two Italian Murano glass dishes attributed to Fratelli and Toso and one signed Scandinavian bowl by Kedelv for Flygsfors. We are selling these individually so you can choose one, two, or three. They are all in wonderful vintage condition with no chips, cracks, or chiggers. There is some shelf wear to bottoms. Please see photos. Circa mid-20th century.
Measures:
Red Dish – 2.5H x 7W x 7.25D Inches 2.4 Pounds
Purple Dish – 2.5H x 8.75W x 6.5D Inches 1.7 Pounds
Green Flygsfors Bowl – 2.25H x 9W x 9.5D Inches 2.3 Pounds
Boxed Size One:
Hight – 7 Inches
Width – 13 Inches
Depth – 14 Inches
Weight – 7 Pounds
Boxed Size Two:
Hight – 11 Inches
Width – 13 Inches
Depth – 14 Inches
Weight – 10 Pounds
Boxed Size Three:
Hight – 15 Inches
Width – 13 Inches
Depth – 14 Inches
Weight – 15 Pounds
Additional Information:
Dimensions: N/A
Weight: N/A
MAKER: Flygsfors, Fratelli and Toso
DESIGNER: Kedelv
STYLE / PERIOD: MId-Century Modern, Scandinavian Modern
COUNTRY OF ORIGIN: Italy, Scandinavia
MATERIALS: Art Glass
DATE: Circa: Mid-20th Century