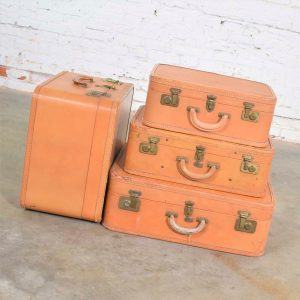 4 Vintage Stratosphere Rappaport Leather Suitcases Luggage as Side Tables End Tables
Whether you use these for their intended purpose or stack them as side tables or end tables…they will provide lots of storage! We are presenting them to you as stackable storage tables. Comprised of gorgeous saddle tan colored cowhide exteriors with stitched and protected corners, leather handles, and brass latches. They are made by Stratosphere Rappaport Chicago. Two of the suitcase interiors are lined with imported linen and two with satin. Stack them two and two for a pair of side tables. Stack them three and one for a lamp table and a side table. Or, stack all four for a pedestal. Fill them with keepsakes, photos, books, magazines, or linens. They will look fabulous in your industrial loft, boho chic apartment, modern country ranch, mountain log cabin, or farmhouse. You just need to make them yours!
Price: $1,495
SKU: 414-DEC-234
Product Short Description :
Handsome set of four (4) vintage leather suitcases by Stratosphere Rappaport Chicago. We have stacked them as side tables or end tables. They are in overall wonderful vintage condition. They do have lots of beautiful patina including scratches, tears, and worn spots on the leather. The interiors are clean with no odors. Please see photos. Circa mid-20th century.
Measures:
Hat Box – 18.5H x 18.25W x 11.5D Inches  10.9 Pounds
Large Suitcase – 18.25H x 24.25W x 8.5D Inches  14.1 Pounds
Medium Suitcase – 14H x 21W x 7.25D Inches  8.2 Pounds
Small Suitcase – 13H x 18.25W x 7.25D Inches  6.7 Pounds
Weight – 40 Pounds All
Boxed Size:
Height – 40 Inches
Width – 30 Inches
Depth – 24 Inches
Weight – 50 Pounds
Additional Information:
Dimensions: N/A
Weight: N/A
MAKER: Stratosphere Rappaport Chicago
STYLE / PERIOD: Boho Chic, Coastal Style, Country, Farmhouse, Modern Country, Rustic
MATERIALS: Linen, Satin, Leather
DATE: Circa: Mid-20th Century