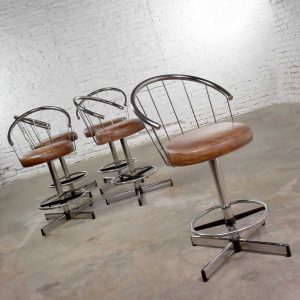 5 Cosco Vintage Modern Chrome Bar or Counter Stools w/ Brown Vinyl Faux Leather Seats
Get a load of these awesome bar stools/counter stools! They have 5 different height adjustments. But I would expect nothing less from vintage Cosco stools. Comprised of a chrome frame with a brown vinyl faux leather round seat. The chrome back upper rail curves around and down in a horseshoe shape to create the arms as well as the back with simple small chrome spindles. They are supported by the adjustable chrome shaft and have a chrome and black foot ring and a chrome four prong base. Simple and useful and versatile! These are the perfect stool for your kitchen or bar or rec room whether you live in a mid-century modern home, an industrial loft, a modern country, or mountain ranch. You need to make them yours!
Cosco was founded in 1935. First called the Columbus Specialty Company but changed in 1941 to the contraction Cosco. They began with the invention of a tin matchbox that dispensed new matches wile providing a place of used ones but during WWII, as with most US manufacturers, the made military equipment. After the war, a new world opened to them with the introduction of a full line of all metal household stools. In 1988 they were acquired by Dorel making them a part of Dorel Juvenile. They remain in business today as part of the Dorel Home Furnishings, as a sister division to Ameriwood Home, DHP, and Dorel Living. There headquarters was and is in Columbus, Indiana.
Price: $2,295
SKU: BEL-SEA-304
Product Short Description :
Handsome set of 5 vintage modern chrome bar stools or counter stools by Cosco with brown vinyl faux leather seats. They are in awesome vintage condition. There is some wear to the vinyl and normal signs of age to chrome. Please see photos. Circa 1970s-1980s.
Stools:
All Heights – 34.5, 37, 39, 41, 43 Inches
Width – 21 Inches
Depth – 19.5 Inches
All Seat Heights – 22.5, 24.5, 26.5, 29, 30.5 Inches
All Arm Heights – 27.25, 29, 31.5, 33.25, 35.25 Inches
Inside Seat Width – 18.5 Inches
Inside Seat Depth – 18 Inches
Inside Back Height – 13.25 Inches
Weight – 18.5 Pounds Each
Crated Size:
Height – 54 Inches
Width – 48 Inches
Depth – 48 Inches
Weight – 235 Pounds
Additional Information:
Dimensions: N/A
Weight: N/A
MAKER: Cosco
STYLE / PERIOD: Modern
COUNTRY OF ORIGIN: United States
MATERIALS: Paint, Chrome, Metal, Vinyl
DATE: Circa: 1970s, 1980s