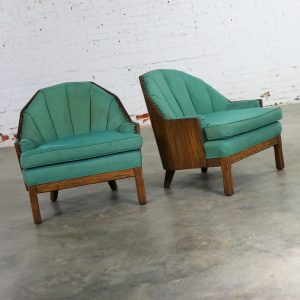 A Brandt Company Ranch Oak Cowboy Western Style Barrel Club Chairs a Pair
These are quite the find! An original pair of barrel club chairs by A. Brandt Company from their Ranch Oak Collection. Comprised of white oak planks with a wonderful pegged detail in a cool barrel shape. Although the original fabric is without holes or tears it is faded and stained, with a good cleaning it might be able to be salvaged and reused; however, the circa mid-century foam is past its usefulness and must be replaced. A. Brandt Company was established in 1900 but the Ranch Oak furniture debuted in Fort Worth, Texas in 1938 and continued until the mid-1980s. They were used in ranch homes, mountain homes, dude ranches, and basement rec rooms across the nation. This pair of awesome chairs would look incredible wherever you decide to use them. In your loft, your cabin, or your western styled home. They will even look great mixed with your industrial décor. Make them yours!
Price: $2,295
SKU: 414-SEA-114
Product Short Description :
Fabulous pair of barrel shaped club chairs by A. Brandt Company from their Ranch Oak collection in their incredible cowboy western style with the planked and pegged oak. They are in wonderful solid condition and although the original turquoise fabric is without holes it is a little worn, faded, and stained; and, the vintage foam is getting hard and crispy, so reupholstering will be needed. We believe this pair to be circa 1950s.
Note: We have several pieces of Ranch Oak listed, be sure you look at all of them.
Chairs:
Height – 30.5 Inches
Width – 30 Inches
Depth – 32 Inches
Seat Height – 17 Inches
Arm Height – 14 Inches
Inside Seat Depth – 22 Inches
Inside Seat Width – 20.5 Inches
Inside Back Height – 14.5
Weight – 58.3 Pounds Each
Crated Size:
Height – 52 Inches
Width – 36 Inches
Depth – 40 Inches
Weight – 240 Pounds
We ask that the buyer cover freight. Please send zip code for a quote to your area: contact 
Additional Information:
Dimensions: N/A
Weight: N/A
MAKER: A Brandt Company
LINE/COLLECTION: Ranch Oak
STYLE / PERIOD: Country, Western, Mid Century, Rustic
COUNTRY OF ORIGIN: United States
MATERIALS: Fabric, Oak
DATE: Circa: 1950s