American Industrial Work Table Maple Top Steel Base Vintage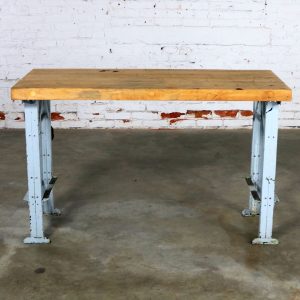 Need an island or bar for your industrial loft or your modern country or rustic designed home? Or maybe your man-cave? Look no further! This incredible piece of 20th Century industrial design is just what the designer ordered. This work table is comprised of a painted angled steel base and brackets and a gorgeous maple work surface that is ready to use. It even has its own electrical supply cord and plug in sockets so small kitchen appliances, blenders, mixers, etc. can be used on it! We have cleaned its original chipped and faded paint job on its base and we have sanded and oiled the wood so that is it nice and smooth with no splintering yet still retains its fabulous age patina. And, we've made sure the wiring is workable and safe to use. All you need to do is decide where you are going to use it and make it yours!
Price: $2,295
SKU: 414-IND-013
Product Short Description :
Amazing American industrial work table with its original maple top and painted steel base. It is in solid sturdy condition and both top and base provide awesome age patina. We have sanded and oiled the wood surface, so it is ready to use but have not removed its interesting age-related nicks, dings, and dents. Circa mid-20th Century.
Work Table:
Height – 32.25 Inches
Width – 52 Inches
Depth – 24.25 Inches
Weight – 117.5 Pounds
Crated Size:
Height – 39 Inches.
Width – 58 Inches
Depth – 30 Inches
Weight – 280 Pounds
Additional Information:
Dimensions: N/A
Weight: N/A
STYLE / PERIOD: Modern Country, Industrial, Primitive, Rustic
MATERIALS: Paint, Iron, Maple
DATE: Circa: Mid-20th Century