Selection Required: Select product options above before making new offer.
Error: There was an error sending your offer, please try again. If this problem persists, please contact us.
Antique Buddha Pair & Stand Hand Carved Wood & Hand Painted Red & Gilded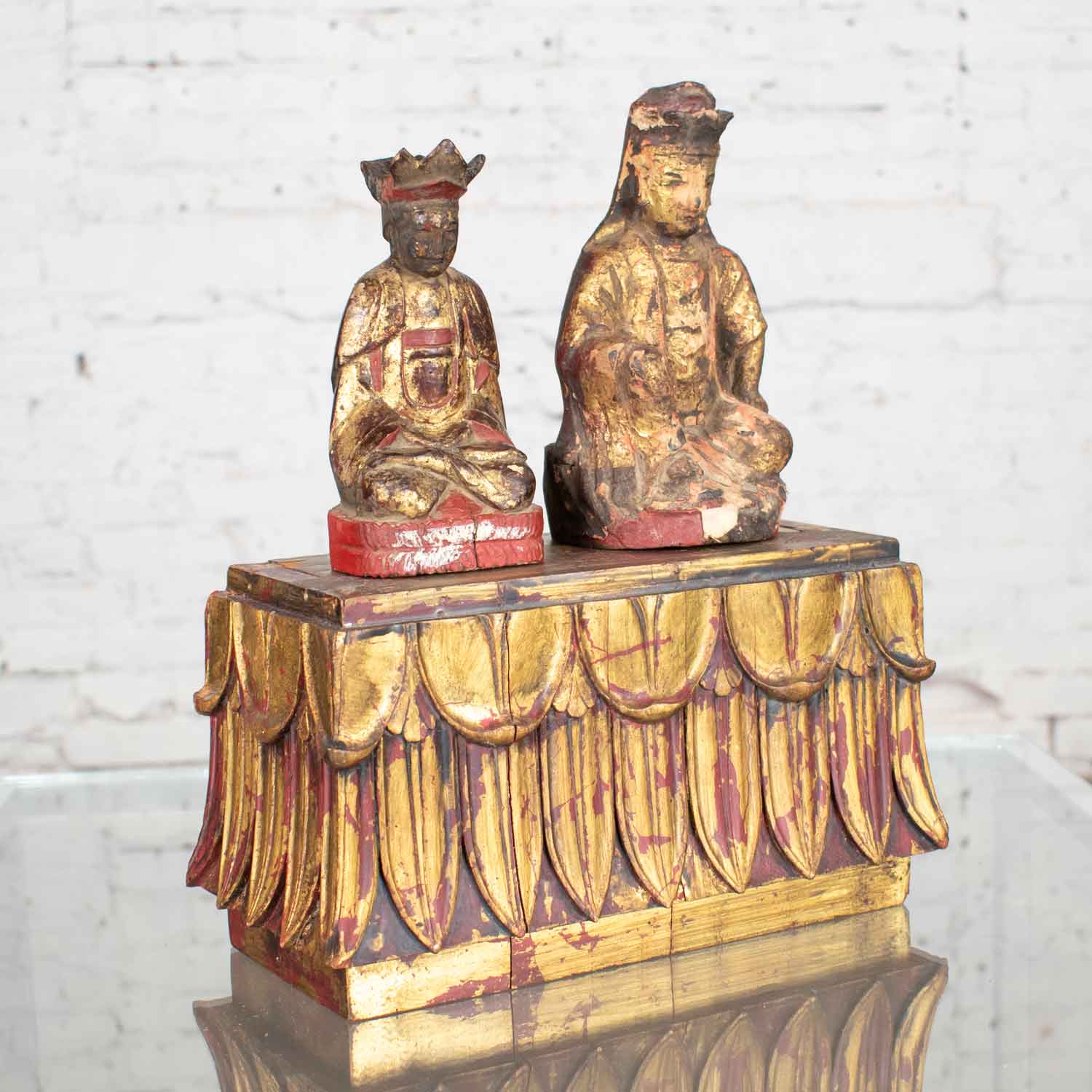 Antique Buddha Pair & Stand Hand Carved Wood & Hand Painted Red & Gilded
Fabulous pair of Buddha and stand comprised of hand carved wood. Hand painted red underlay has been gilded. Wonderful vintage condition with age appropriate nicks and chips. Crown on smaller Buddha is broken on the right side and he has a slight crack on his front base, but we think it adds to his character. These are extremely aged and patinated. All flaws are considered natural patina and part of their beauty. Please see photos.  Circa Mid19th-20th Century but could be older.
Taller Figure Sizes:
Height: 7 3/4 Inches
Depth: 4 Inches
Width: 4 Inches
Base Diameters :4 Inches
Weight: 0.9 Pounds
Smaller Figure Sizes:
Height: 6 3/4 Inches
Depth: 3 3/8 Inches
Width: 2 ½ Inches
Base Diameters: 3 ½ Inches
Weight: 0.5 Pounds
Stand Size:
Height: 6 ½ Inches
Width: 12 Inches
Depth: 6 Inches
Weight: 3.3 Pounds
Boxed Size Set:
Height: 17 Inches
Width: 18 Inches
Depth: 13Inches
Weight: 10 Pounds
Need some peace and relaxation in your life? This magnificent pair of Buddha are here to help! These two Buddha rest high upon their stand made of wood with beautifully gilded hand carved laurel leaves. The symbolism of a laurel leaf is victory and this trifecta of tranquility will make you feel victorious! These three were not originally a set but we just knew they belonged together. You can just feel the calm and peaceful aura that emits from this unique trio. The smaller Buddha, In his mudra, or "position," has both hands face up in his lap with legs crossed in a Double Lotus pose which is perfect for people looking to create peace and calm in their lives. The taller Buddha is in his Lalitasana mudra (or pose.) It is often called "the royal position" or "royal ease" in English and is a relaxed pose typical in royal portraits and those of religious figures whose "kingly" attributes are being emphasized. This set is an absolute must for a serenity or meditation room, but they are fabulous enough to display on a shelf, in a cabinet, hutch, or anywhere in your home you need some calming vibes. Their all over patina just accelerates their awesomeness. The smaller Buddha has a cut out on his back that you could insert herbs or incense to emit smells of your choice to add additional relaxation. The taller Buddha has what appears to be the same cut out, but it is sealed shut so we didn't want to open or mess with it in case of releasing any bad juju. These guys are the epitome of "Royally Calm," and if you need something fabulous to look at while you meditate, read, or partake in your favorite yoga position, you need them!
Keep in mind warehouse414 items are vintage and not new; they will have signs of use and wear. Please see photos and zoom in for details. We attempt to portray any imperfections.
Gilt, Giltwood, Hand Carved Wood