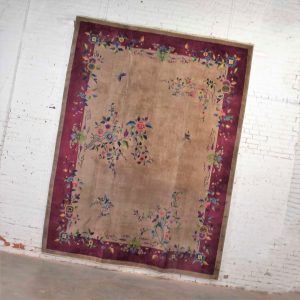 Antique Chinese Art Deco Wool Handmade Rug Taupe with Magenta Border 8'8"x11'4.5"
What an incredible Art Deco Chinese rug!! Hand done of 100% wool. And in the loveliest taupe colored ground with a wide border of eye-popping magenta or cranberry colored border and adorned with a gorgeous Art Deco floral asymmetrical pattern in wonderful jewel tones. It is a fabulous room sized rug being 104 inches wide by 136.5 inches long. This Art Deco style rug is very versatile and lends itself to many décor styles not just an Art Deco aesthetic. Especially mid-century modern, modern, and modern country. So, if you are looking for an incredibly made gorgeous rug…look no further. Make this one yours!
Price: $8,495
SKU: SLO-RUG-003-30
Product Short Description :
Handsome vintage wool 8'8" x 11'4.5" handmade Chinese Art Deco rug in a gorgeous soft taupe ground with a cranberry or magenta border and jewel tone Art Deco floral design. It is in fabulous vintage condition. We have cleaned the rug thoroughly; however, there may still be small stains but nothing major. There is some wear in higher trafficked area but just adds to its ambiance. Please see photos. Circa early 20th century.
Rug Size:
Width – 104 Inches
Length – 136.5 Inches
Thickness – .75 Inches
Weight – 77.4 Pounds
Boxed Size:
Height – 36 Inches
Width – 20 Inches
Depth – 20 Inches
Weight – 100 Pounds
Additional Information:
Dimensions: N/A
Weight: N/A
STYLE / PERIOD: Art Deco
COUNTRY OF ORIGIN: China
MATERIALS: Wool
DATE: Circa: Early 20th Century