Selection Required: Select product options above before making new offer.
Error: There was an error sending your offer, please try again. If this problem persists, please contact us.
Antique Industrial Arched Foundry Patterns for Molds Handmade Wood – Group 3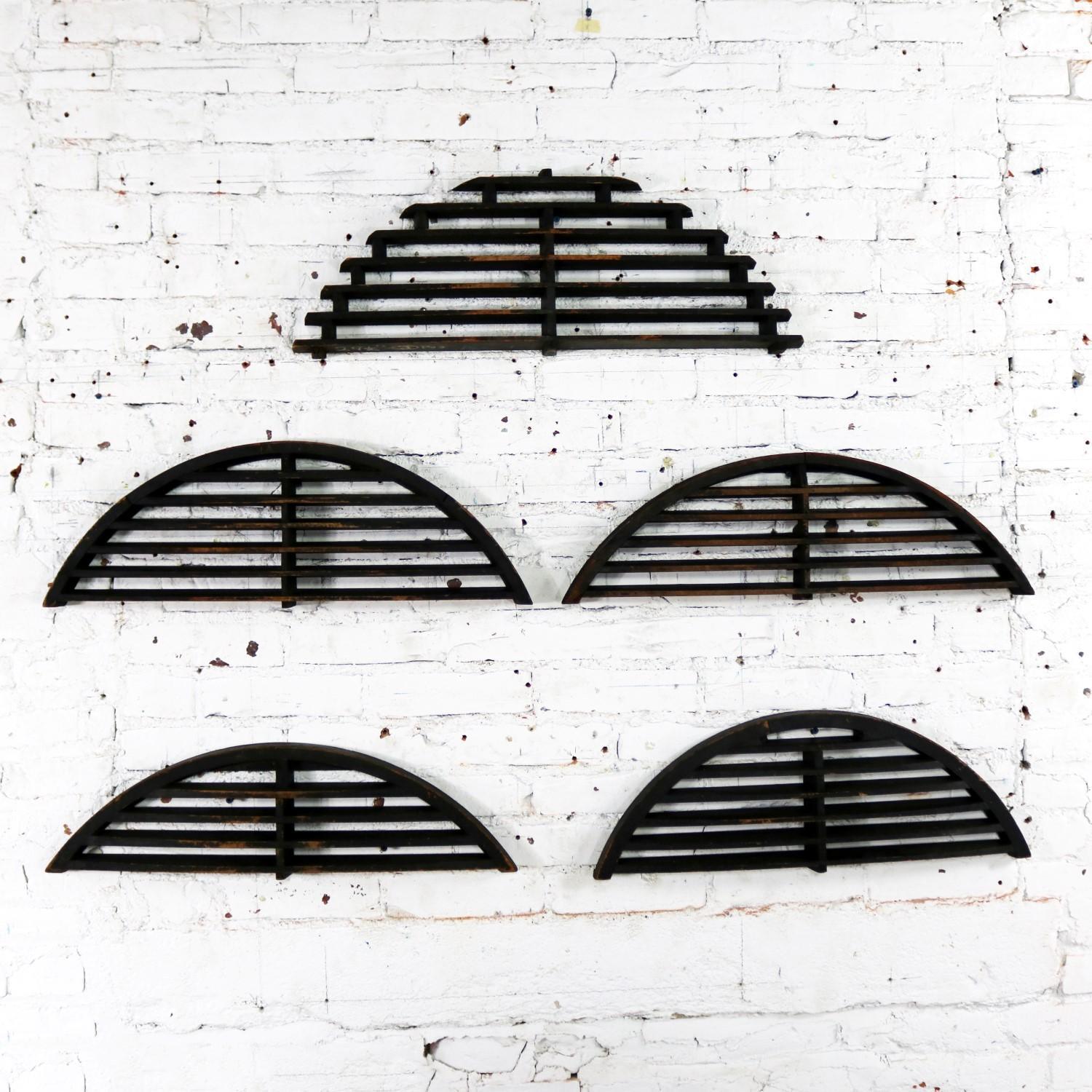 Antique Industrial Arched Foundry Patterns for Molds Handmade Wood – Group 3
Incredible arched antique handmade wood industrial foundry patterns. These were created to make the sand cast molds for casting iron sewage grates. There are five patterns in this group, but we have priced them separately. We will sell one through five. They are all in wonderful antique condition with fabulous patina from all their years of age and use. Tell us which one you want A, B, C, D, or E from top to bottom, left to right. D is sold. Circa late 19th Century.
Patterns:
Largest to Smallest Height – 8-11 Inches
Largest to Smallest Length – 20-25.5 Inches
Largest to Smallest Depth – 1.25-2.25 Inches
Weight – 1.3 Pounds Each
Boxed Size One:
Height – 14 Inches
Width – 30 Inches
Depth – 5 Inches
Weight – 5 Pounds
Holy cow! These antique industrial handmade foundry patterns are simply fabulous! This listing is for an individual arched pattern from "A" through "C" and "E". Pattern D is sold. We have priced them individually. They make the most fabulous wall collage. Or are simply wonderful setting on a mantel or shelf.
These patterns came from Western Foundry of Topeka, Kansas. They were founded in 1876 by Roswell L. Cofran, Sr., a civil war veteran and future Topeka mayor. While running the business, he served as mayor for three terms 1885-1887, 1889-1893, and 1913-1915. Western Foundry operated in Topeka for 124 years under three Roswell L. Cofrans; Sr., Jr., and III.
The patterns were hand carved in the mid to late 1800s. They were created for cities all over the world. The carved pattern would be used to create the sand cast mold in which the molten iron would be poured to make the grate or whatever item for which the pattern was made.
My husband and I purchased these patterns from Western Foundry's Going Out of Business auction many, many years ago and they've been in storage since. The buildings where these patterns were stored were amazing. There were two built specifically for this purpose totaling at least 120 feet in length. And, the patterns were filed according to project and placed very neatly on shelves lining both sides of the long narrow structures. I wish I would have had the forethought to note what project each of these was for as we were loading them. What history they hold! Now we get to offer these marvelous pieces to you. Make this set yours. Or, if these don't meet your needs look at all our others listed here as well. Or, contact us. We couldn't begin to list them all.
Keep in mind warehouse414 items are vintage and not new; they will have signs of use and wear. Please see photos and zoom in for details. We attempt to portray any imperfections.
Modern Country, Industrial, Primitive, Rustic