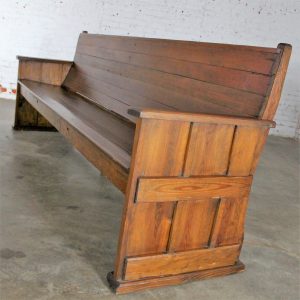 Antique Rustic Pine Bench Pew circa 19th Century
This bench is outstanding! The antique pine is phenomenal, it has the warmest age patina you can imagine. The back and seat have a slight curve for comfort but is otherwise very square and blocky. Whether your style is traditional, modern country, or industrial; It would grace your entryway beautifully, adorn your atrium, or add just the right touch to your kitchen as a banquet. I'm sure you will find a dozen other uses for this versatile and awesome bench?……..pew?………settee?!! Just make it yours.
Price: $2,295
SKU: 414-SEA-053
Product Short Description :
Gorgeous rustic pine 19th century bench or pew. This fabulous antique piece is in wonderful condition with loads of beautiful patina.
Chair Size:
Height – 36.5 Inches
Width – 98 Inches
Depth – 24 Inches
Seat Height – 18.5 Inches
Arm Height – 26 Inches
Weight – 120 Pounds
Crated Size:
Height – 43 Inches
Width – 104 Inches
Depth – 30 Inches
Weight – 360 Pounds
We ask that the buyer cover freight. Please send zip code for a quote to your area: contact 
Additional Information:
Dimensions: N/A
Weight: N/A
STYLE / PERIOD: Country, Rustic
DATE: Circa: 19th Century