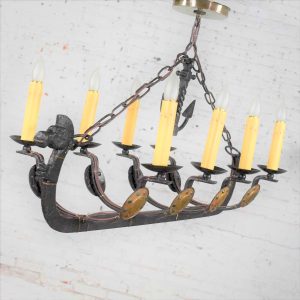 Antique Viking Longboat Ship Cast Iron Chandelier with Horse Head and Shields
We have gone berserk over this Viking chandelier and so will you!!! The ultimate in interesting. This fabulous cast iron light fixture comes in the form of a Viking ship or longboat. The bow of the ship is adorned with a Scandinavian stylized horse head and the stern with a very stylized tail. There are four U-shaped ribs, like the ribs of a ship, which hold a candle and bobeche on each end for a total of eight lights. A round Viking shield adorns the side of each U. The totality hangs from the ceiling by a chain attach fore and aft plus in the middle to a brass ceiling canopy from which is also hanging a cast iron anchor. I can't begin to tell you how completely and utterly incredible this piece is! Some will think this fixture can only be used in a gothic or traditional setting, but I can so imagine this light hanging above a gorgeous Danish modern dining table in your mid-century modern home. Or in a modern loft or rustic mountain cabin. Don't hesitate. You need to make it yours!
Price: $8,495
SKU: 414-LTG-074
Product Short Description :
Handsome and unusual cast iron eight light chandelier in the shape of a Viking longboat or ship with a horse head, horse tail, warrior shields, chain and anchor details. It is in wonderful antique condition. The cast iron has a natural patina that is simply splendid. The gilded shields too have their own great age patina consisting of missing gilding and dings. The candles are original but in great condition and can be replace if you wish. The fixture has been rewired and is ready to hang. Please see photos. Circa 1930s-1950s.
Fixture:
O/A Length from Ceiling Currently – 24 Inches
(But chain can be added to make it any length needed)
O/A Width – 45.25 Inches
O/A Depth – 19 Inches
Size of Ceiling Canopy – 6.5 D X 1 H Inches
Size of Anchor – 10.25 H x 7 W x 1.5 D Inches
Size of Chandelier Body (w/o candles) – 7.5 H x 45.25 W x 17 D Inches
Weight – 28.4 Pounds
Boxed Size:
Height – 23 Inches
Width – 51 Inches
Depth – 25 Inches
Weight – 45 Pounds
Additional Information:
Dimensions: N/A
Weight: N/A
STYLE / PERIOD: Mediterranian, Rustic, Scandinavian
MATERIALS: Cast Iron, Brass
DATE: Circa: 1930s-1950s