Selection Required: Select product options above before making new offer.
Error: There was an error sending your offer, please try again. If this problem persists, please contact us.
Brasilia Dining Chairs Original Vintage Set of 10 Mid Century Modern 1962-1970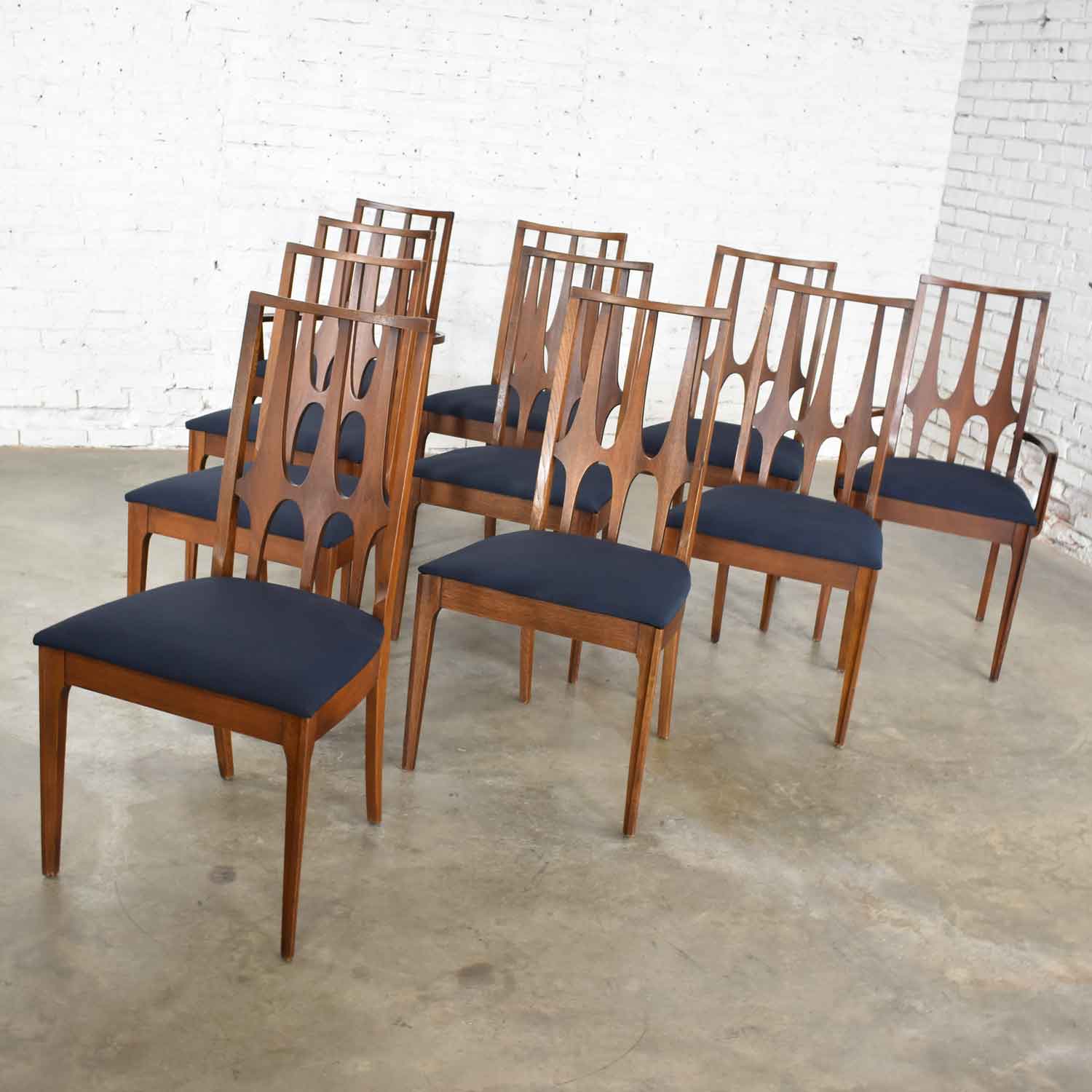 Brasilia Dining Chairs Original Vintage Set of 10 Mid Century Modern 1962-1970
Iconic Mid Century Modern Broyhill Brasilia original set of 10 dining chairs, 2 arm and 8 sides. Dark walnut and new dark blue/black upholstery. In fabulous vintage condition apart from one side chair that had a broken back rail that has been repaired by our experienced staff.  Please see photos. Circa 1962-1970.
Chairs:
Height – 37 Inches
Width – 20.25 Inches w/o arms
Width – 21.25 Inches with Arms
Depth – 22 Inches
Seat Height – 18.5 Inches
Arm Height – 24 Inches
Inside Seat Width – 17.75 Inches
Inside Seat Depth – 17.5 Inches
Inside Back Height – 20 Inches
Weight – 12.30 Pounds w/o Arms
Crated Size:
Height – 61.5 Inches
Width – 73 Inches
Depth – 53.5 Inches
Weight – 332 Pounds
This is the epitome of excellence!  Ten!!! I repeat…TEN original Broyhill Brazilia dining chairs! Their iconic sculpted design inspired by Brazilian architect Oscar Niemeyer is extremely desirable and sought after. Finding an original set of ten is rare! They have been re-upholstered in a fabric that is an ongoing debate here as to whether it is blue or black. Depending on the light some of us say blue and some say black, but either way, they are absolutely stunning. They are comprised of deep sultry walnut and the backs of the chairs bear the elegant triple Brasilia arches. Their high backs, tapered legs and sturdy frame unify their comfort. These will be wonderful encompassing any dining room table.  The Brasilia Collection is mid-century modern in style but borders on Brutalist although it would be beautiful in an industrial or modern country setting as well.
It is no coincidence that The Brasilia collection design is very architectural in style. It was introduced to the public at the Seattle World's Fair in 1962 and drew its inspiration from the architecture of the newly created and majestic Capital of Brazil, Brasilia. The brochure for Brasilia by Broyhill Premier says……."Brasilia…the city…by its daring and beauty has revolutionized architecture and opened vast new horizons of design. From this inspired dream, Broyhill Premier drew inspiration for the furniture grouping which bears the fine young name: BRASILIA." This line was extremely popular with the furniture buying public and is still sought out today. Broyhill ended production of this successful line sometime in the 1970s.
Broyhill Furniture was founded by 27-year-old James Edgar Broyhill in 1926. Edgar or Ed had worked for his older brother's furniture company as a salesman, bookkeeper, and clerk since 1919. It is a story of true American entrepreneurship. Starting simply producing single pieces of furniture they soon grew into a huge well-known and well-respected furniture manufacturer. Ed together with his brothers merged and purchased smaller entities to do so. The company flourished till the depression as did most furniture makers and refitted and remade themselves during WWII to stay in business. After the war with the American economy booming, they expanded further. During the mid-20th century introducing beautiful and extraordinarily successful modern lines. Still flourishing and expanding during the 1970s until in 1980 they turned the tables and sold the company to St. Louis based Interco, Inc. who had also purchased Ethan Allen and Lane. By 1991 Interco had overextended and sought bankruptcy protection. Then climbing out of their slump by the early 2000's Interco transitioned into their newest incarnation, Furniture Brand International, which remains one of the largest manufacturers of furniture today.
We know that you are in love with this original set of ten Brasilia chairs as much as we are.  Make them yours!!
Keep in mind warehouse414 items are vintage and not new; they will have signs of use and wear. Please see photos and zoom in for details. We attempt to portray any imperfections.