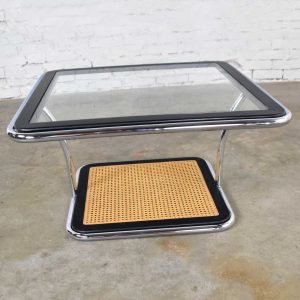 Breuer Bauhaus Style Chrome Black Wood Cane & Glass Square Coffee Table or End Table
Wow! I love this piece. It could easily be a coffee table or end table. It is done in the style of the renowned Marcel Breuer's Bauhaus Cesca chair with its bent chrome tubing frame, black painted wood top with cane and glass insert. We here at the shop believe it is circa 1970s when there was a huge resurgence of the Bauhaus and Art Deco style. Its time has come again. This table would be the perfect addition to your mid-century modern décor or look fabulous in your industrial loft, modern country home, or mixed with your Hollywood Regency treasures. Use it as a coffee table or an end table. Just make it yours!!
Price: $1,495
SKU: 414-TBL-201
Product Short Description :
Handsome Bauhaus style bent chrome tube, black painted wood, cane, and glass rounded square coffee table or end table in the style of Marcel Breuer. It is in wonderful vintage condition with no outstanding flaws that we have seen. Please see photos. Circa 1970s.
Table:
Height – 16 Inches
Width – 30.25 Inches
Depth – 30.25 Inches
Weight – 35.2 Pounds
Boxed Size:
Height – 22 Inches.
Width – 37 Inches
Depth – 37 Inches
Weight – 60 Pounds
Additional Information:
Dimensions: N/A
Weight: N/A
STYLE / PERIOD: Art Deco, Art Moderne, Bauhaus, MId-Century Modern, Streamline
MATERIALS: Painted Wood, Caning, Chrome, Glass
IN THE STYLE OF: Marcel Breuer
DATE: Circa: 1970s