Selection Required: Select product options above before making new offer.
Error: There was an error sending your offer, please try again. If this problem persists, please contact us.
Campaign Style Thomasville Furniture Mystique 3 Section Modular Queen Bed Set w/Side Armoires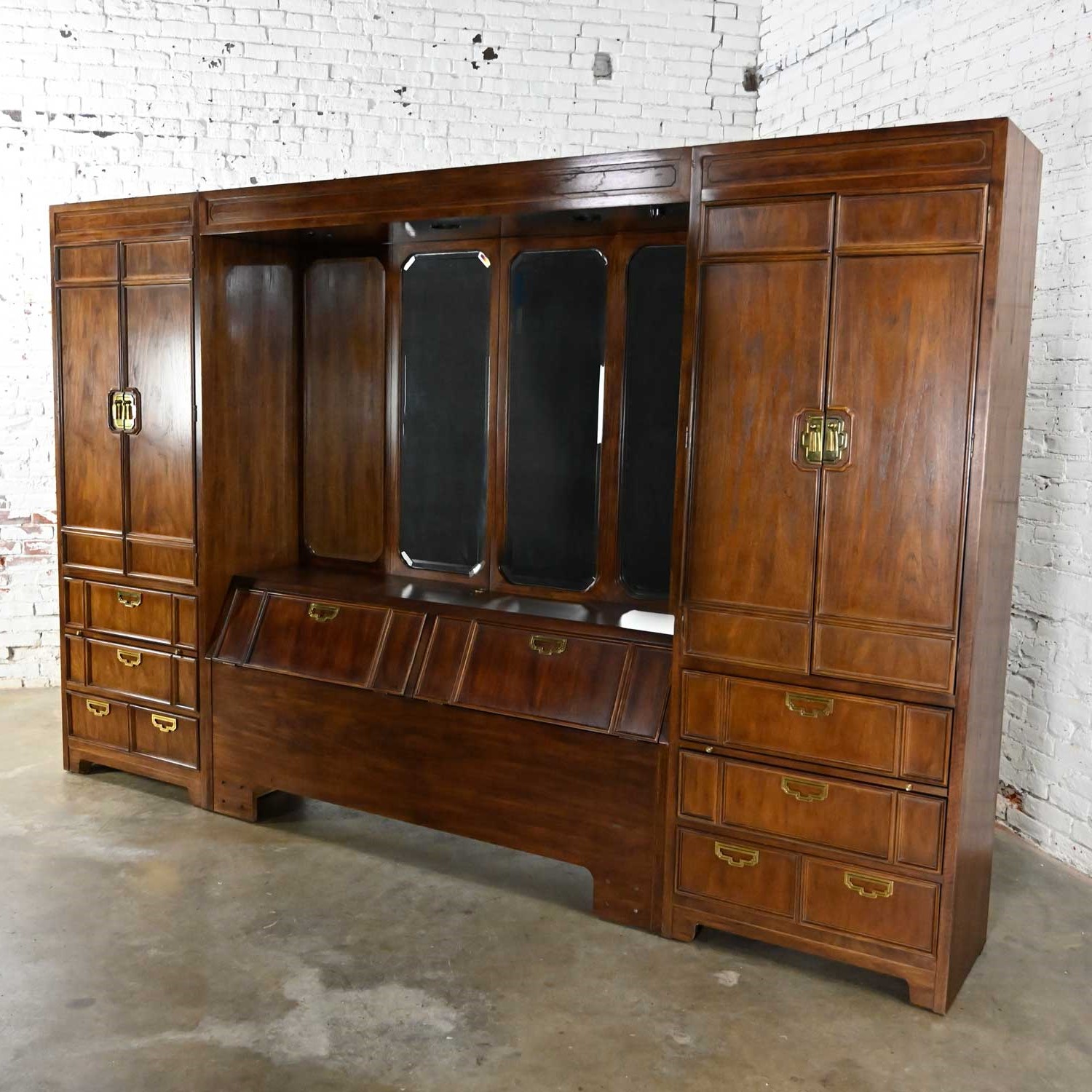 Campaign Style Thomasville Furniture Mystique 3 Section Modular Queen Bed Set w/Side Armoires
Wonderful campaign style modular wall unit bedroom or bed set up with side armoires comprised of dark wood, removeable mirrors, lights, full/queen headboard, and brass hardware by Thomasville Furniture. Beautiful condition, keeping in mind that this is vintage and not new so will have signs of use and wear. The top of the headboard has been refinished but the rest of the pieces have their original finish. No outstanding flaws that we have detected. Please see photos and zoom in for details. We attempt to portray any imperfections. Circa, 1970's.
Bed/Wall Cabinets Measures:
O/A Height – 78 Inches
O/A Width – 120 Inches
O/A Depth – 19.5 Inches
Size of Side Units Each – 78H x 27.75W x 19.5D Inches
Size of Middle Headboard Unit – 30.5H x 64.5W x 18D O/A w/ 12D Top Surface – Inches
Mirror Insert Size – Inches
Header above Mirrors & Bed Size – Inches
NOTE: Mirrors Bump Out 1 Inch on Back of Unit
Weight – 475 Pounds All
Crated Size:
Height – 85 Inches
Width – 56 Inches
Depth – 46 Inches
Weight – 725 Pounds
Can a girl (or guy) ever have TOO many options??? We think NOT!!! Seriously!! Take another look at this Extremely cool, Extremely modular "Mystique" wall unit or bedroom set up by Tomlinson Furniture. So many options…We say that because the center, larger unit can be used as a headboard for a full or queen-sized bed. You just need a Hollywood frame, and it backs right up against the headboard which has drop front storage for extra pillows or blankets! The four mirrors are removeable so if you prefer you could take them off and expose a blank wall or hang your favorite piece of artwork. Plus, there are lights at the top of the crown unit and a shelf to hold a lamp, books, or décor! Now, it's nice to have the two side cabinets in your bedroom if you need the space for storage…there is hanging space in the top wardrobe area and three nice sized drawer's underneath…AND there are knobs immediately beneath the wardrobe section that pull out into a nightstand surface with a black laminate top!! SO NICE!! BUT…maybe it's a little much for the space you have, and you want to break it up a bit. NO PROBLEM! The two side pier cabinets are modular and can stand individually in separate rooms or could set side by side in one room. Maybe you want to use the two pier cabinets in a second bedroom and put a beautiful brass bed between them and use the center unit in a different bedroom. The whole unit is comprised of a gorgeous sultry dark wood and the cabinets have beautiful brass escutcheons, teardrop pulls, and hardware. There are truly so many interchangeable possibilities with this wonderful campaign style wall unit and it is made with impeccable quality by an iconic manufacturer. You just can't go wrong!
The original Thomasville furniture company was founded in 1904. At the time, it was called the Thomasville chair company since the company focused on producing chairs exclusively. Over the next few decades, the catalog expanded to include additional furniture pieces. During this time, the original company went through several owners; despite this, the company still experienced financial success even through economic hardship of the 1930s. Vintage pieces from the Thomasville Furniture company run the gamut from chairs to dining room furniture and many different types of furniture in between. The earliest pieces from the company when it was still known as the Thomasville Chair Company are considered the most rare and valuable. If you are looking for authentic Thomasville vintage pieces, you will need to find them on the secondhand market. Thomasville Furniture is one of the most recognized furniture companies in America. You can count on Thomasville furniture for incredible dining room and bedroom furniture. – vintage furniture guide.
What are you waiting for? You need to make this awesome wall unit yours!!
Keep in mind warehouse414 items are vintage and not new; they will have signs of use and wear. Please see photos and zoom in for details. We attempt to portray any imperfections.
Thomasville Furniture Ind.