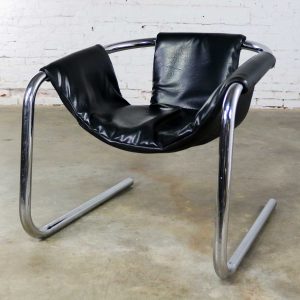 Chrome and Black Vinyl Cantilevered Sling Chair Attributed to Vecta Group Italy
This Italian modern chair is so much fun! It is attributed to Vecta Group of Italy and called the Zermatt chair. And although made during the early 1970s has overtones of Bauhaus design and maybe a little Mid-Century Modern leftover to boot. It is comprised of a single piece of chromed steel tubing which is bent and curved to create its barrel shaped cantilevered frame. The chair is created by a sling of black vinyl that is cut and stitched together so that when it is looped around the frame in three places it forms the seat, sides, and back of the sling. Another simple yet superb vintage modern chair. Not to mention comfortable. It would look just as at home in a New York loft as it would in a California ranch.
I've searched the web over and have not been able to find history on Vecta Group prior to when this chair was produced. There are many references to Vecta but not about the company itself. The information I have found is post 1978 when Vecta was purchased by Steelcase.
We've fallen in love with the look and feel of this awesome chair. We know you will too. You need to make it yours.
Price: $795
SKU: 414-SEA-182
Product Short Description :
Handsome chrome and black vinyl cantilevered sling chair attributed to Vecta Group of Italy and called the Zermatt chair. This chair is in wonderful vintage condition overall. The chrome is very good but not without a small amount of age appropriate wear. The vinyl is also very good apart from a tear in the top back of the sling that has been repaired. Please see photos. Circa 1970s.
Chair:
Height – 27 Inches
Width – 28 Inches
Depth – 33 Inches
Arm Height – 22.5 Inches
Seat Height – 16.5 Inches
Inside Seat Width – 24 Inches
Inside Seat Depth – 18.5 Inches
Inside Back Height – 17 Inches
Weight – 24 Pounds
Boxed Size:
Height – 31 Inches
Width – 32 Inches
Depth – 37 Inches
Weight – 40 Pounds
Additional Information:
Dimensions: N/A
Weight: N/A
DATE: Circa: 1970s
MAKER: Vecta Group
MATERIALS: Chrome, Vinyl
STYLE / PERIOD: Modern