Danish Mid-Century Modern End Table w/ Three Drawers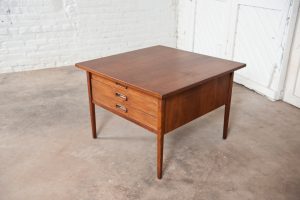 Presenting one of my favorite pieces in our shop. This Danish Mid-Century Modern end table with three drawers is beautiful as well as versital. It seems I want to use it in every room setting I create.  It makes a great lamp table at the end of any type of sofa. Just the right height and a generous size.  The three drawers provide just the little bit of storage you need for the remotes or, for us ladies, an emory board and some nail polish! And, maybe a magazine or two. I'm having a hard time deciding whether this is teak or walnut; whichever, it is gorgeous wood. The condition is wonderful with the exception of a little chip/nick in the bottom right (as you look at it) corner of the middle drawer (look at photos closely). Please buy this one quickly before I decide it needs to go to my living room!
Price: $995
Product Short Description :
Fantastic Danish Mid Century Modern End Table with Three Drawers.  In wonderful condition except for chip on lower right corner of middle drawer.  Not sure if this is teak or walnut.
• Height – 21 inches

• Width – 30 inches

• Depth – 30 inches

• Weight – 45 pounds 6.0 ounces
We ask that the buyer cover freight. Please send zip code for a quote to your area: contact 
Additional Information:
Dimensions: N/A
Weight: N/A