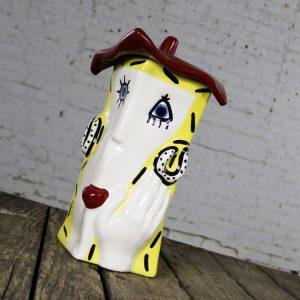 This unique jar just makes me smile!!! Whether you use it as a cookie jar or for other storage you must have it!!! She is wearing a jaunty red hat, that is the lid, over her sassy blonde hair and sporting cool black and white polka dot spiral earrings while holding her hand to her face she looks at you with her beautiful mismatched blue eyes. Handmade by artist Jerilyn Babroff she is signed on the bottom and in perfect condition. A 21st century gem. You need to make her yours. Or maybe a wonderful gift!
Price: $285
SKU: 414-DEC-112
Product Short Description :
Fun and funky ceramic cookie jar or storage jar in the form of a lady's head with her hand to her face wearing a red hat. It is in excellent condition with no chips, cracks, or chiggers. Circa 21st century.
Jar:
Height – 14.5 Inches
Width – 6.5 Inches w/Lid – 8 Inches
Depth – 6 Inches w/Lid – 8 Inches
Weight – 6.5 Pounds
Boxed Size:
Height – 22 Inches
Width – 14 Inches
Depth – 14 Inches
Weight – 11 Pounds
We ask that the buyer cover freight. Please send zip code for a quote to your area: contact 
Additional Information:
Dimensions: N/A
Weight: N/A