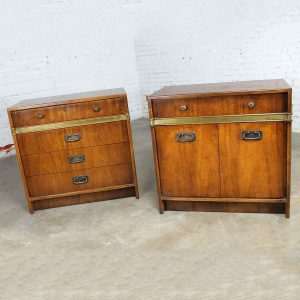 Hickory Manufacturing Co. Campaign Style Chests a Vintage Pair
Looking for a pair of outstanding bedside chests? Look no further. These campaign style chests by Hickory Manufacturing Co. are just what the designer ordered! Chest number one is configured with four drawers; one shallow drawer above a brass decorative band and three deeper drawers below which are adorned by awesome campaign style pulls. Chest number two is configured with the same shallow drawer above the decorative brass strap band with a double door cabinet compartment below and each door is adorned by the same interesting campaign style handles. Although I am so not sure what species of wood comprises these cabinets, I am sure it is gorgeous. It has beautiful grain and coloring. These cabinets are in wonderful condition; however, if you run your hand across the tops you can feel a bit of roughness indicating a slight raise in the grain; however, it is not visually distracting. In addition to making great night stands these cabinets would be very handsome flanking a fireplace or sofa. Or, butt them together for one long chest. No matter how you decide to use them, they will make you happy you made them yours.
Price: $4,495
SKU: 414-CSG-027AB
Product Short Description :
Fabulous pair of campaign style chests by Hickory Manufacturing Co. with antiqued brass trim and hardware. The pair are in wonderful vintage circa 1970s condition.
Chests:
Height – 31 Inches
Width – 32.5 Inches
Depth – 19.25 Inches
Weight – 82 Pounds Each
Crated Size:
Height – 37 Inches.
Width – 38 Inches
Depth – 45.25 Inches
Weight – 314 Pounds
Additional Information:
Dimensions: N/A
Weight: N/A
MAKER: Hickory Manufacturing
STYLE / PERIOD: Campaign
DATE: Circa: 1970s