Industrial Three Tier Stainless Steel Rolling Cart Vintage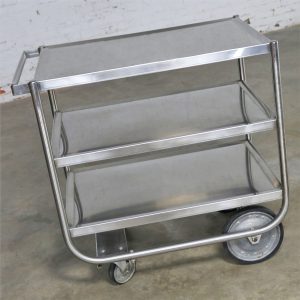 Wow! How I love this cart! Let me count the ways! It would make the most wonderful unusual dry bar or a fabulous kitchen cart or island. I could see it as a towel cart in a bathroom or for use in a laundry room and even a nursery. How many ways could you use it? It is comprised of three tiers of beautiful heavy gauge stainless steel that has acquired a wonderful age patina. Those tiers are held in place by a u-shaped stainless-steel tube frame which is held up by two large wheels on the front end and two small wheels on the back with a handle on the top tier for steering. Perfect! It will absolutely be phenomenal in your industrial loft space but equally as cool in a home or apartment. It is ready to use in so many places and so many ways, you just need to make it yours.
Price:
SKU: 414-IND-016
Product Short Description :
Awesome vintage industrial three tier heavy gauge stainless steel rolling cart. It is in wonderful vintage condition with a nice overall patina to the stainless which includes small scratches and dings. The wheels are galvanized with hard rubber tread. The rubber is old and cracked and a small piece is missing. This cart is circa 1950s-1960s.
Cart:
Height – 36.38 Inches
Length – 38.5 W/Handle
Depth – 34.25 Inches
Distance Between Tiers – 10 Inches
Bottom Tier Height – 13 Inches
Middle Tier Height – 24.5 Inches
Weight – 83.8 Pounds
Crated Size:
Height – 43 Inches
Width – 40 Inches
Depth – 44 Inches
Weight – 200 Pounds
Additional Information:
Dimensions: N/A
Weight: N/A
STYLE / PERIOD: Modern Country, Industrial
MATERIALS: Stainless Steel
DATE: Circa: 1950s, 1960s