Knotty Pine Distressed Corner Cabinets Pair by Weiman Heirloom Quality Tables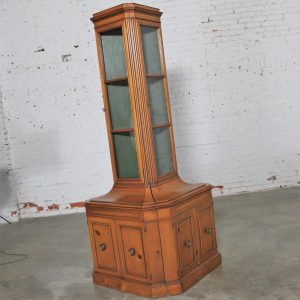 These Georgian style corner cabinets, that may once have been the ends of a much larger piece of furniture but are unique and beautiful enough to stand on their own, are an incredibly handsome pair! Made from a combination of solid and veneer knotty pine with carved intricately detailed inlaid designs, moldings and interiors. They are not without dings and dents but it only adds to the beauty of their finish and presence. Their shape is unique with slender display top section with a framed glass door flowing into a more bulbous lower storage section with solid double doors adorned with wonderful brass hardware. Use them in opposing corners of a room, flank a fireplace, or butt them together for a totally unusual stand-alone cabinet. The warmth of the gorgeous knotty pine combines with green of the interior of the display portion to impart a comforting homey effect. I can see these in a formal setting or casual. I know you want them. I'm sure you can find a place where they are just perfect!
Price: $2,495
SKU: 414-CSG-034
Product Short Description :
Extraordinary pair of distressed knotty pine corner display cabinets made by Weiman Heirloom Quality Tables. These beautiful cabinets are in wonderful vintage condition circa 1950s.
Cabinet:
O/A Height – 76.25 Inches
O/A Width – 26.5 Inches
O/A Depth – 18 Inches
Width/Depth/Height of Uppers – 9.5x14x48 Inches
Weight – 122 Pounds for the Pair
Crated Size:
Height – 83 Inches.
Width – 42 Inches
Depth – 24 Inches
Weight – 262 Pounds
We ask that the buyer cover freight. Please send zip code for a quote to your area: contact 
Additional Information:
Dimensions: N/A
Weight: N/A
MAKER: Weiman Heirloom Quality Tables
STYLE / PERIOD: Federal
DATE: Circa: 1950s