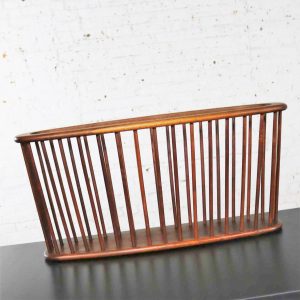 Larger Walnut Oval Magazine Rack Attributed to Arthur Umanoff for Washington Woodcraft
If you need a beautiful mid-century modern container for magazines, books, maybe dog toys or knitting supplies……look no further! This gorgeous magazine rack attributed to Arthur Umanoff and produced by Washington Woodcraft is just the thing. Comprised of a solid walnut oval bottom and a slightly larger ring of solid walnut for the top with the two being connected by simple solid walnut spindles. The difference in size of the top and bottom result in the slight angle of its sides. Simple and stunning.
Arthur Umanoff (1923-1985), a Pratt and American School of Design graduate, was a fabulous and prolific mid-century modern and modern designer during the mid-late 20th century. He began his career in 1952 at The Elton Company. His designs include a wide range of décor items as well as furniture which focused for a time on fun bars and barstools and a variety of patio pieces in wrought iron and wood and laminates. Some of the companies he designed for include Shaver Howard, Washington Woodcraft, Howard Miller, and Arleigh to name just a few.
This magazine rack is one of Umanoff's more recognized pieces and would be a good way to start your Arthur Umanoff collection. Or, it is just a great iconic way to store your stuff! Make it yours
Price: $895
SKU: 414-DEC-198
Product Short Description :
Handsome walnut oval magazine rack in the larger size attributed to Arthur Umanoff for Washington Woodcraft. It is in fabulous original condition which we have just given a good cleaning and oiling. Please see photos. Circa 1960s.
Magazine Rack:
Height – 14.75 Inches
O/A Width – 31 Inches
O/A Depth – 9 Inches
Weight – 5.8 Pounds
Boxed Size:
Height – 19 Inches.
Width – 35 Inches
Depth – 14 Inches
Weight – 10 Pounds
Additional Information:
Dimensions: N/A
Weight: N/A
DESIGNER: Arthur Umanoff
MAKER: Washington Woodcraft
STYLE / PERIOD: MId-Century Modern
MATERIALS: Walnut
DATE: Circa: 1960s