Selection Required: Select product options above before making new offer.
Error: There was an error sending your offer, please try again. If this problem persists, please contact us.
Michael Graves Postmodern Club or Lounge Chairs by David Edward Company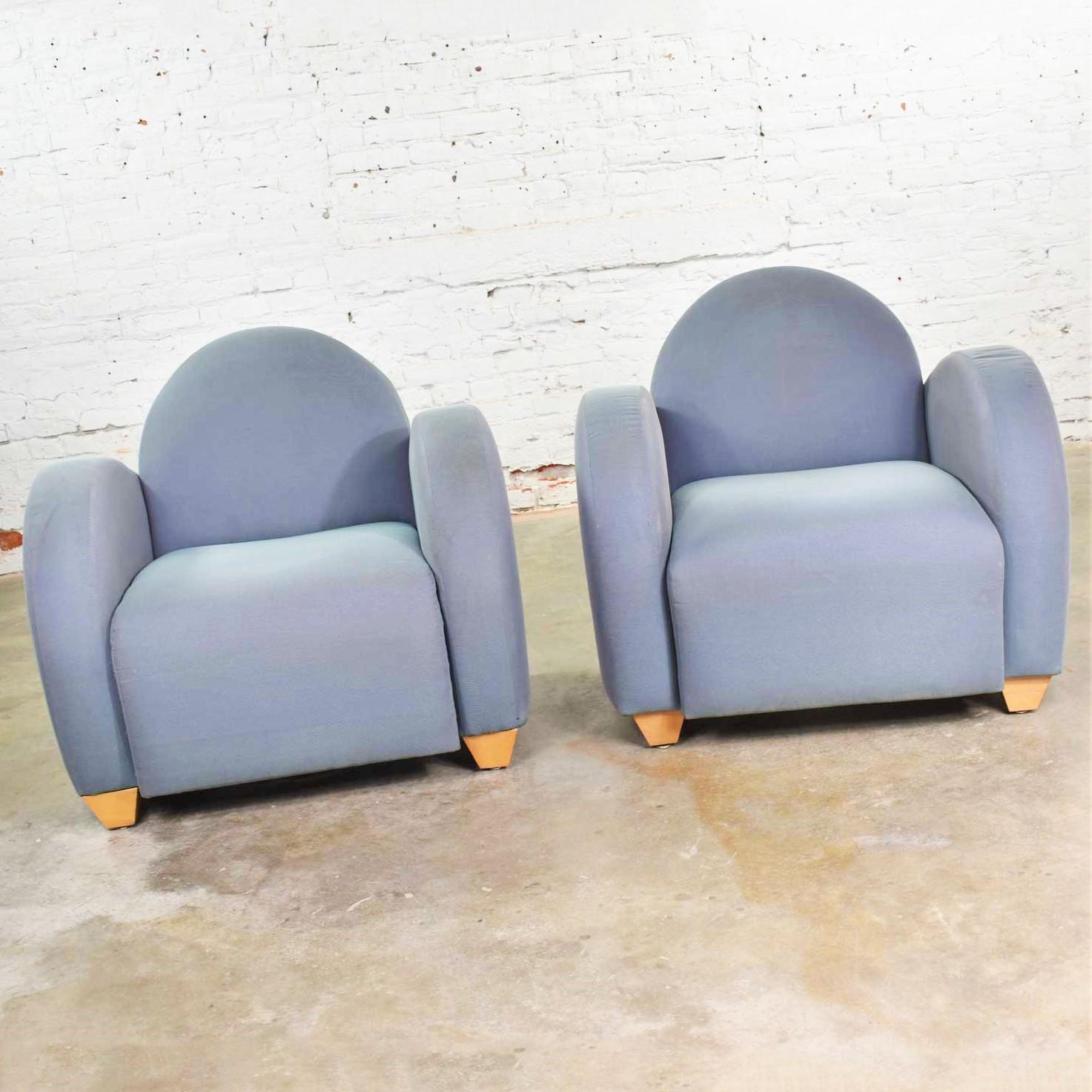 Michael Graves Postmodern Club or Lounge Chairs by David Edward Company
We are offering here a large number of Michael Graves designed postmodern club chairs or lounge chairs produced by David Edward Company. We have priced these chairs individually, but you may purchase multiples. There are currently 21 chairs. They are all in varying degrees of condition and different colors. Most of the upholstery is too worn to use as is so will need to be recovered. But we have restored and refinished the four light maple feet on each chair. They are priced accordingly. Please see photos. Circa 1990s.
Chair Size:
Height – 31.5 Inches
Width – 33 Inches
Depth – 34 Inches
Seat Height – 17 Inches
Arm Height – 25.5 Inches
Inside Seat Width – 21 Inches
Inside Seat Depth – 21 Inches
Inside Back Height – 18 Inches
Weight – 55.8 Pounds Each
Boxed Size One:
Height – 37 Inches
Width – 39 Inches
Depth – 40 Inches
Weight – 86 Pounds
Crated Size Two:
Height – 54 Inches
Width – 39 Inches
Depth – 32 Inches
Weight – 215 Pounds
Crated Size Four:
Height – 54 Inches
Width – 72 Inches
Depth – 46 Inches
Weight – 390 Pounds
These are fabulous and incredibly well-built postmodern club chairs or lounge chairs designed by the renowned architect and designer, Michael Graves. They were produced for contract use by the David Edward Company. These chairs were part of the redesign by Michael Graves in the 1990's of our wonderful local library here in Topeka. Which, for just a tidbit of info, was named the 2019 National Library of the Year. The chairs are comprised of the signature postmodern rounded style of Graves with rounded backs and arms and supported by tapered light maple feet. They are chunky, comfortable, and wonderful. We have 12 in total and have priced them per chair so you may purchase multiples. They will need reupholstered, but we have restored and refinished the feet. These will be perfect for your home but are sturdy enough for commercial use. Just decide how many you want….and make them yours!
Michael Graves, 1934-2015, is one of the most prominent postmodern architects of the 20th century. He produced a prolific body of work which spanned office building, retail spaces, hospitals, and houseware products. It is noted he designed during his career more than 350 buildings and over 2500 products. He was born in Indiana; and in 1958 obtained a bachelor's degree in architecture from the University of Cincinnati with a master's degree from Harvard in 1959. He received the "Rome Prize" in 1960 and spent the next two years studying architecture at the American Academy in Rome. In 1962 upon his return to the U.S. he began a 39-year architecture professorship at Princeton University. In 1964 he founded his own architectural firm, Michael Graves & Associates. He is known as one of the "New York Five" a group of young architects that championed a new and pure form of modernism. And in the 1980s Graves helped to shift the architectural conversation from pure forms to a new language of hybrid Postmodern design and was invited by Italian architect Ettore Sottsass to join his artistic collective Memphis. Mr. Graves designed products for the likes of Alessi, Dansk, Disney, JC Penney, Swid Powell, and even Target. After an illness that left him paralyzed from the waist down, he became an advocate for health-oriented design. He won multiple prestigious awards during his career and passed away at the age of 80 renowned and beloved in 2015.
Now you can own a piece of Michael Grave's design. Make one or several of these awesome chairs yours!
Keep in mind warehouse414 items are vintage and not new; they will have signs of use and wear. Please see photos and zoom in for details. We attempt to portray any imperfections.
1stDibs, Chairish, EBay Collective