Selection Required: Select product options above before making new offer.
Error: There was an error sending your offer, please try again. If this problem persists, please contact us.
Mid Century Hollywood Regency Gilded Plaster Large Scale Figural Lamps Boy with Jug Style Marbro, a Pair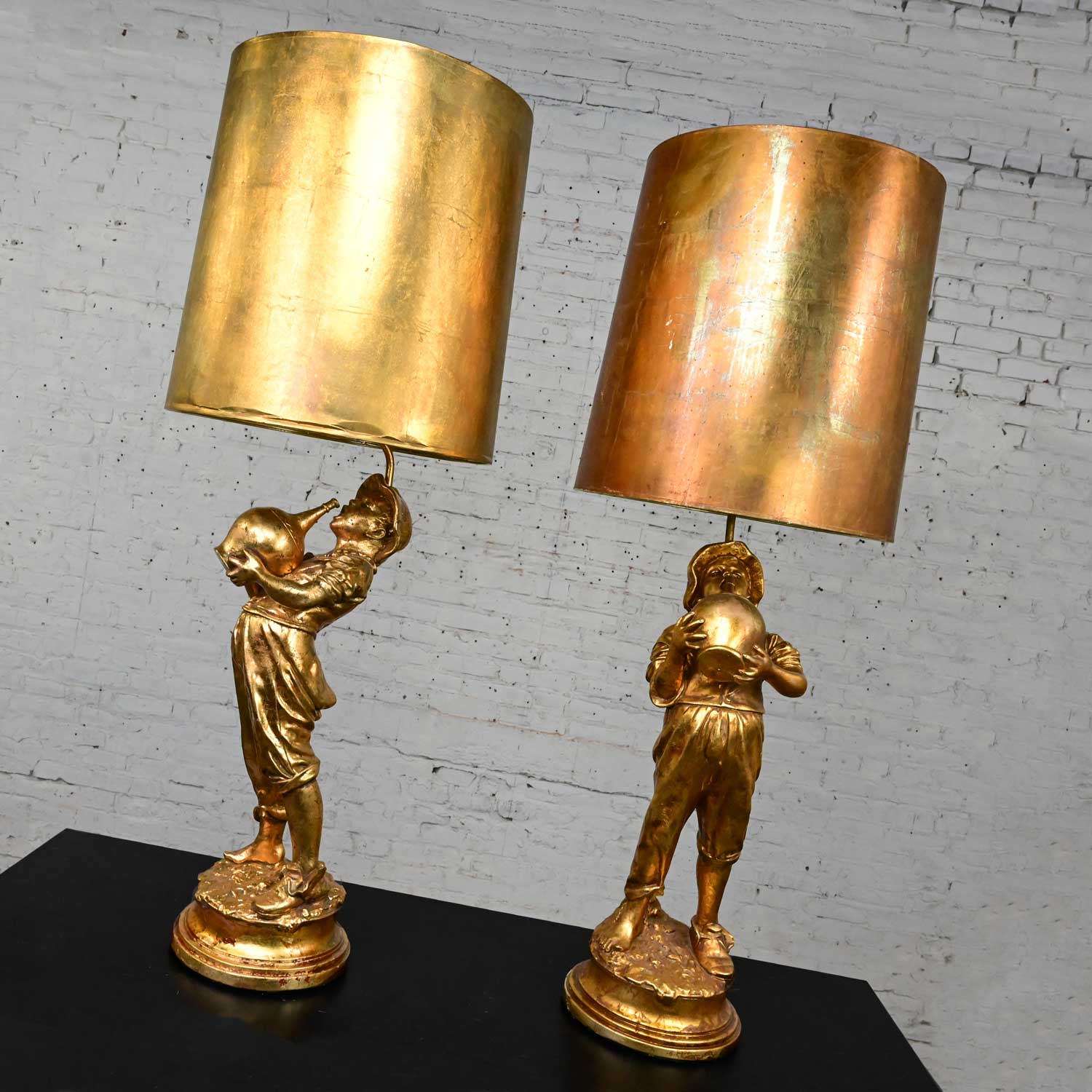 Mid Century Hollywood Regency Gilded Plaster Large Scale Figural Lamps Boy with Jug Style Marbro, a Pair
Fabulous pair of mid-century Hollywood Regency hand gilded gold plaster large scale figural lamps boy with drinking jug and original slightly tapered gold leafed or gilded drum shades in the style of Marbro Lamp Company. Beautiful condition, keeping in mind that these are vintage and not new so will have signs of use and wear. Both have been rewired with new cords and sockets. The base of one lamp has been patched, repaired, and re-gold leafed. The shades are a bit age worn with some creases, dents, & tears, but still look so fabulous on these lamps we had to leave them. Please see photos and zoom in for details. We attempt to portray any imperfections. Circa, Mid Century.
Just two young boys, probably best friends, or brothers, hanging out in the hot summer sun sipping on a jug of… (well, we can't be EXACTLY sure what they're sipping on, but we're going with water!) Although, they are both missing one shoe so who knows? Ha-ha… Just kidding, these boys are well-behaved!! This is a fantastic pair of hand gilded plaster figural lamps of a boy drinking from a water jug in the style of Marbro. One lamp actually has "O. Art Co" carved into the base but throughout extensive research we were unable to find any information about them; however, we have seen identical lamps marked Marbro, though ours are not marked as such. Either way, they are FABULOUS!!! And as similar as they are, we have found a few slight differences and since we know they were made from a mold we think maybe they each had a different individual artist that gave them their finishing touches. If you look closely one boy has something coming from the spout of his jug and the other does not, the rocks or gravel on the ground of one base is a bit raised and the other is flatter, the drinking jug details differ, and the pant legs are slightly different. And those are just a few what we have found. And as fabulous as the lamps are, we also ADORE the original aged gold leaf slightly tapered drum shades!! They are slightly different in color as one has a bit darker hue and silver inner shade, and the other inner shade is gold. They definitely have an aged all over patina, both on the bodies of the lamps and the shades, which we think is what makes them even more wonderful! These lamps are hand gilded, and the boy alone stands at 24 inches, so they are definitely large scale! Almost like having a couple of actual toddlers around! But not really… these guys are much quieter and won't be making a mess in whatever room you leave them! LOL! These incredible lamps certainly bear a whimsical aura, and they are ready to fill your home with joy, character, and an ambience full of vintage Hollywood Regency awesome-ness!
The Marbro Lamp Company was established in 1934, shortly after World War II by Morris Markoff and his brother Elliot in Los Angeles, California. They were one of the finest lamp producers during the mid-1900's and mainly sold in a handful of shops. Marbro lamps were one of a kind and some took up to ninety days to complete. They were occasionally made from sculptures customers would bring to the shop and others from vases and objects d'art from all over the world. They employed highly skilled wood turners and lamp shade makers. They would make occasional sculptures and decorative objects, but they were best known for their creative and high-quality table lamps. The Masco Corporation acquired Marbro Lamp Company in 1987 and their Los Angeles plant closed its doors in 1990.
This perfectly imperfect pair of hand gilded figural boy lamps is simply too incredible to let go. So just do it, make them YOURS!!!!
Keep in mind warehouse414 items are vintage and not new; they will have signs of use and wear. Please see photos and zoom in for details. We attempt to portray any imperfections.
Hollywood Regency, Maximalist
Gilding, Gold Leaf, Paper, Plaster, Metal
Lamp Size Each: •Height Lamp w/Shade: 51.25 Inches •Height to top of Harp: 48 Inches •Height to top of Socket: 39 Inches •Body Size: 26H x 9.5 x 12 Inches •Base Size: 4H x 11.5D Inches •Shade Size: 20H x 19D at Bottom & 17D at Top Inches •Weight: 28.18 Pounds Ea
Boxed Size w/ Shades All: •Height: 70 Inches •Width: 50 Inches •Depth: 25 Inches •Weight: 90 Pounds