Selection Required: Select product options above before making new offer.
Error: There was an error sending your offer, please try again. If this problem persists, please contact us.
Mid Century Machine Age Aluminum Goodform Armchairs by General Fireproofing Set 6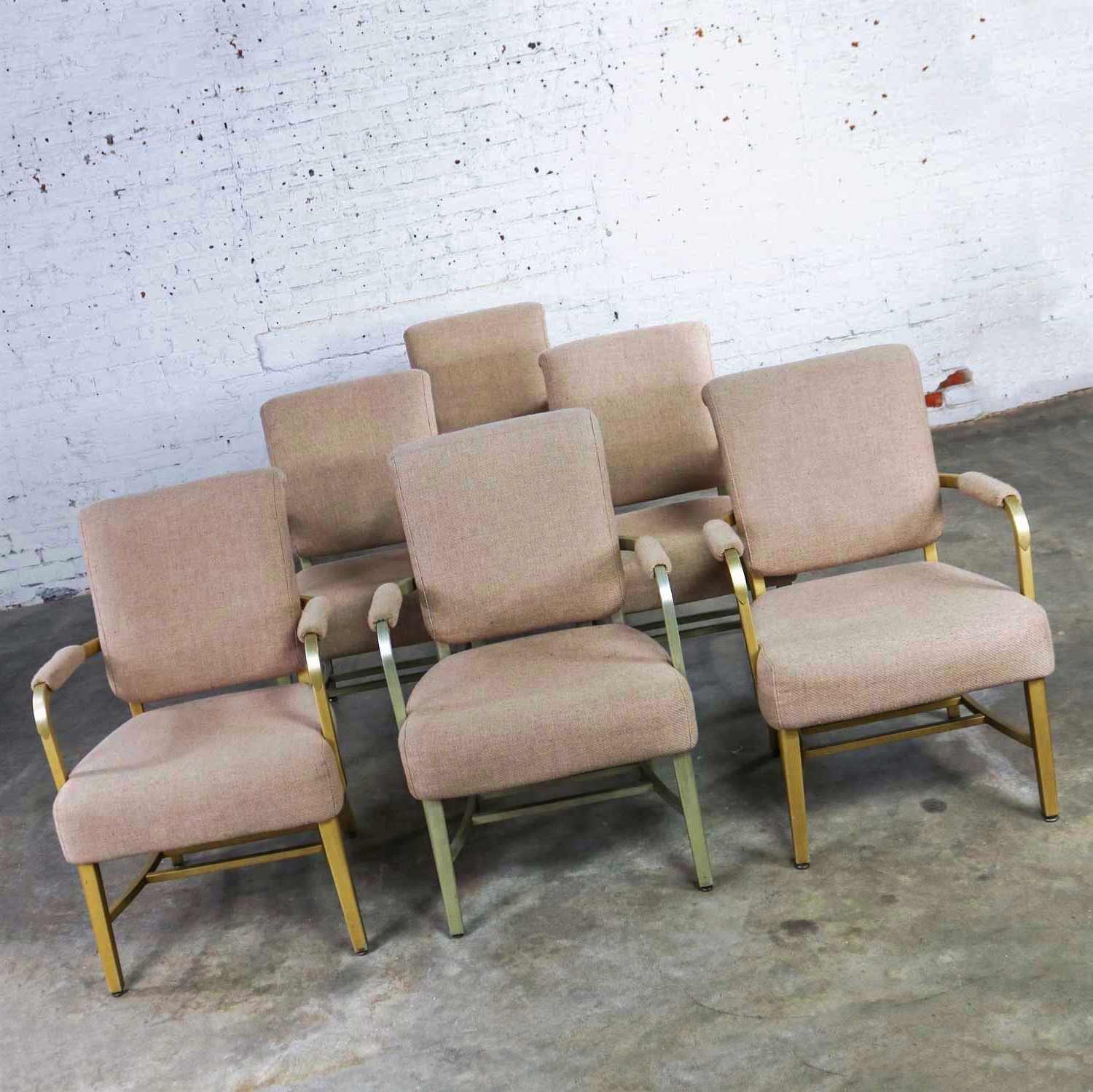 Mid Century Machine Age Aluminum Goodform Armchairs by General Fireproofing Set 6
Handsome set of 6 Goodform mid-century machine age and industrial style aluminum armchairs by General Fireproofing Company. Comprised of anodized slightly gold colored aluminum frames and upholstered in a woven beige fabric. They are in wonderful vintage condition overall. The aluminum has been cleaned and gone over gently with steel wool and the fabric has been professionally cleaned. That does not mean they are free from signs of age but have a nice patina. You may wish to recover. The aluminum coloration ranges from silver to gold and is individual on each chair. Please see photos and zoom in for details. We attempt to portray any imperfections.  Circa 1940s-1960s
Holy cow! We are in love with these awesome Goodform chairs by General Fireproofing!! We have six and they are comprised of anodized brushed aluminum frames and bare a blend of machine age, industrial, mid-century styles. They are anodized a lovely gold color… You heard that right… Gold! Or kind-of "gliver." A little silvery with a gold tone. Not sure exactly how to describe it, but it's fabulous!! Two of the chairs are slightly darker gold with less silver and a little extra detail including a V-shaped overlay detail of aluminum on the front curve of the arms, so you can use those two as host and hostess chairs. Currently they are upholstered in a wool-like woven beige fabric, but we don't think its original; however, it is in good condition and ready to use for a while but…. Wow! Would they ever look fantastic in new leather, vinyl, or maybe mohair! They have a slightly rolled seat back which is a cool detail, the arms are partially upholstered for comfort, and their stretchers and cross bars enhance their industrial look and make them sturdy enough to stand up to a family of toddlers, teenagers, or…elephants whichever you have! Ha Ha!!!
The General Fireproofing Company or GF began in 1902 in Youngstown, Ohio. They were originally manufacturers of building materials. But when the building industry took a downturn in 1907 the put their efforts into producing steel office furniture. Their first 4-drawer steel file cabinet came to fruition in 1910 and the first fireproof safe in 1912. And, GF has the distinction of producing the largest selling commercial office desk in the world with their production of the 1600 series metal desk which was made from 1925 well into the 1970s. Although ALCOA designed the first all-aluminum office chair in 1924 General Fireproofing was not far behind when they produced their first chair in1929. 1932 gave birth to the Goodform seating line with a single model. However1935 saw ten additional models introduced. They continued to produce new models and designs through 1939. But with the onset of WWII, GF ceased all regular production to manufacture aircraft parts. After the war the plant was again regeared to begin making their office furniture. In 1948 something miraculous happened. They collaborated with the renowned Raymond Loewy to create the Mode-Maker line of executive desks. Alas, as things go sales declined in the 1970s and many of their lines were discontinued. The company was bankrupt by 1989.
Iconic. Handsome. Sturdy. And a set of six! Use these around your dining table or in your office. Hurry and make them yours!!!
Keep in mind warehouse414 items are vintage and not new; they will have signs of use and wear. Please see photos and zoom in for details. We attempt to portray any imperfections.
Industrial, Machine Age, Mid Century
Height – 34.5 Inches Width – 24.5 Inches Depth – 27 Inches Arm Height – 24.5 Inches Seat Height – 16.5 Inches Seat Inside Width – 20 Inches Seat Inside Depth – 18 Inches Inside Back Height – 20 Inches Weight – 24.5 Pounds Each
Height – 49 Inches Width – 92 Inches Depth – 43 Inches Weight – 350 Pounds
1stDibs, Chairish, EBay Collective