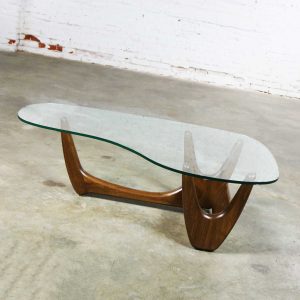 Mid Century Modern Biomorphic Coffee Table Attributed to Kroehler or Tonk Furniture
This fabulous mid-century modern table certainly took me on a wild goose chase that I'm not sure is over! You can find this table all over the internet attributed to Adrian Pearsall. It is NOT designed by him. Of that I am sure. But definitely in his style so it is easy to see where the misattribution comes from. It is also attributed to Valentine Seever, which is not a single person but two last names. And it may have been promoted by them as they were a division of Kroehler Manufacturing Co. It has also been attributed to Tonk Manufacturing Co., best known for their antique piano and organ swiveling stools; but I have not found proof of that statement. What I have seen is a 1950's magazine advertisement for Kroehler featuring this coffee table surrounded by Kroehler upholstered furniture for which they are well known. It is possible it was made by Tonk for Kroehler. I have also seen it with a planter in the rectangular leg opening. But I have also seen it with books and magazines there (I like that the best!). I've seen it shown as we have it photographed with the "legs" up, which is how it was pictured in the Kroehler ad. And, I have seen it photographed with the "legs" down, which is also interesting. No matter who actually designed and made this gorgeous table or whether you use it up or down….it is a wonderful example of mid-century modern design. And considering this great story and intrigue…you must make it yours!
Price: $1,325
SKU: 414MAT-TBL-133
Product Short Description :
Handsome biomorphic glass topped mid-century modern coffee table which is attributed to Kroehler or Tonk furniture manufacturers. The base has been professionally restored and is gorgeous. But the original kidney shaped glass has seen better days and has several small chips and one medium sized chip around its edge. It may be able to be polished down. You might check with your local glass company to see if they polish out glass chips. Please see photos. We have priced it accordingly and could ship just the base and a template of the glass shape if you so desire. Circa 1950s.
Coffee Table:
O/A Height – 15.5 Inches
Base Size – 15Hx34.5Wx21D Inches
Glass Size – 46.75Wx29.25Dx.5T Inches
Weight – 50 Pounds
Boxed Size:
Base Only – 19x19x34.5 Inches 20 Pounds
Base and Glass – 21x52x34.5 Inches 75 Pounds
Additional Information:
Dimensions: N/A
Weight: N/A
ATTRIBUTED TO: Kroehler Manufacturing Co., Tonk Manufacturing Co.
IN THE STYLE OF: Adrian Pearsall
STYLE / PERIOD: MId-Century Modern
MATERIALS: Glass, Wood
DATE: Circa: 1950s