Selection Required: Select product options above before making new offer.
Error: There was an error sending your offer, please try again. If this problem persists, please contact us.
Mid-Century Modern Lane Rhythm Collection Long Narrow Rectangular Walnut Coffee Table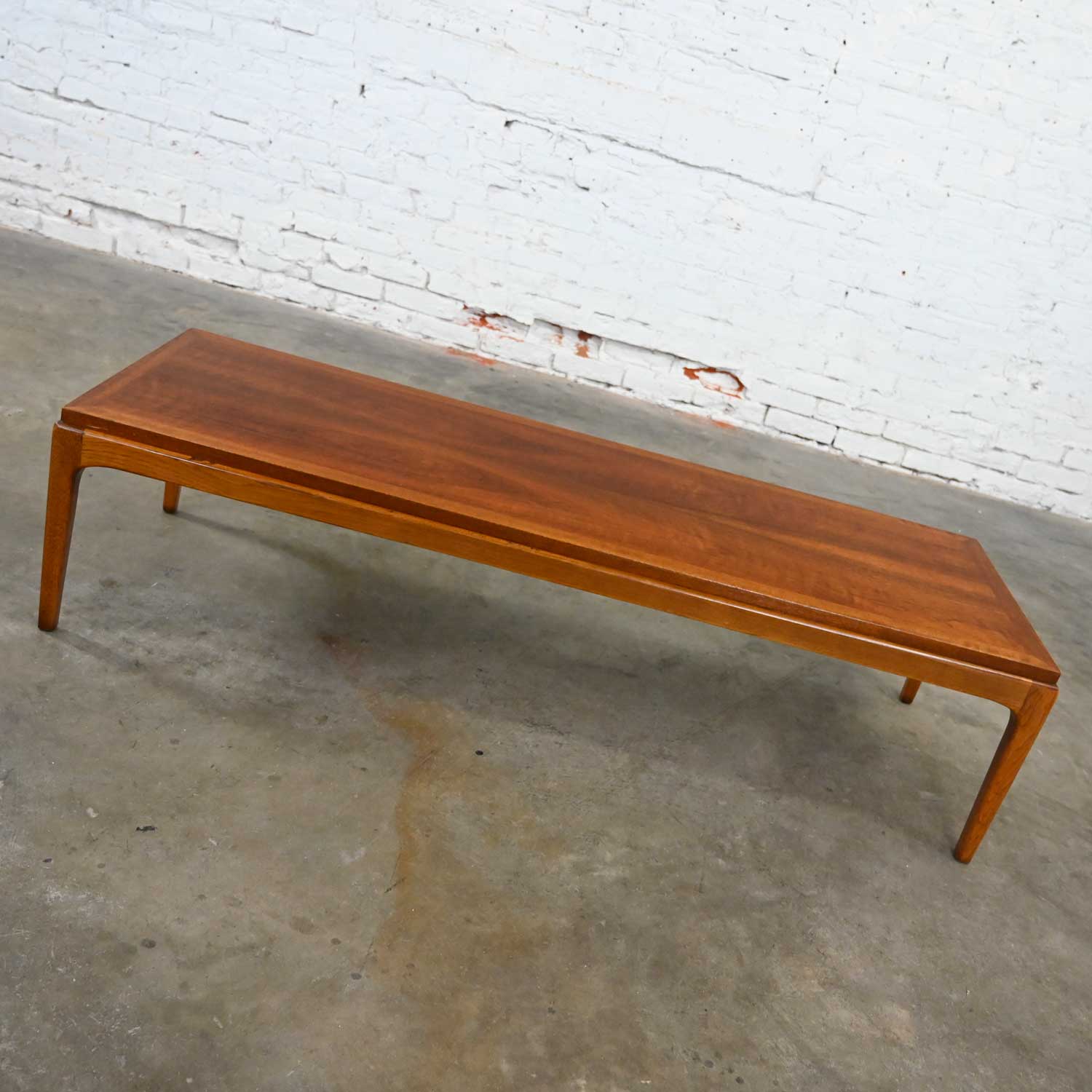 Mid-Century Modern Lane Rhythm Collection Long Narrow Rectangular Walnut Coffee Table
Handsome mid-century modern Lane Rhythm Collection long narrow rectangular walnut coffee table. Beautiful condition, keeping in mind that this is vintage and not new so will have signs of use and wear. The top has been restored and a coat of urethane added, but still will have signs of age patina. Also note color differences in wood on one end. Steps taken to bring them closer together. Please see photos and zoom in for details. We attempt to portray any imperfections. Circa,1963.
NOTE: If you love this Lane Rhythm Collection coffee table, we have a matching single end table with a drawer and a pair of end tables listed here for sale if they are still available.
Coffee Table:
Height – 14 Inches
Width – 58.5 Inches
Depth – 19.75 Inches
Weight – 29.07 Pounds
Boxed/Crated Size:
Height – 20 Inches
Width – 65 Inches
Depth – 26 Inches
Boxed Weight – 50 Pounds
Crated Weight – 115 Pounds
Who doesn't LOVE Lane Furniture? And the Rhythm Collection by Lane is like getting a cherry on top. This narrow rectangular walnut coffee table is simply awesome!! As written in the Lane Alta Vista brochure "the distinctive design of the Rhythm Collection is best described as softly sculpted legs and rails which flow together as a single molded unit. Figured walnut heartwood, bordered with a slightly lighter shade of walnut is used for the tops. The tops are indented from the rails just enough to emphasize the sculptured, unitary construction. And a lovely urethane finish completes a picture of clean, fluent lines and tastefully restrained elegance in contemporary styling." This coffee table is exactly that… simply elegant, clean lines, and designed with a style like only Lane Alta Vista can create!! It has a long narrow rectangular walnut frame, straight legs, and GORGEOUS wood grain. Can't you imagine it in your living room, in front of your sofa? It's going to blend in beautifully with all of your mid-century modern pieces and it's sure to be your new favorite piece of timeless furniture! Rhythm. In art, a harmonious sequence of a correlation of colors or elements. Simply put, that's the perfect description of this collection by Lane…Doesn't get much better than that!!
 Lane was founded in 1912 by Edward Hudson Lane at the age of 21, upon his father's suggestion after he, John Edward Lane, bought a small packing-box plant in Altavista, Virginia. Edward procured a loan and converted the factory to make cedar chests and named it The Standard Red Cedar Chest Co. Sales were good and the company expanded. But during WWI, with the banning of rail freight deemed non-essential, they began making pine ammunition boxes. This is notable as it led to an assembly line which was revolutionary and became the first moving conveyor assembly system in the furniture industry. After the war with sales still increasing Ed Lane decided he could risk giving the company his name and changed it to The Lane Co. in 1922. They began advertising and an ambitious program of research and development leading to hiring their first staff designer and sales force. They made it through the depression with a lot of hard work and again during WWII converted to providing items needed for wartime. After WWII a complete design department was added. They were innovative creating new materials. One called Lanewood which was produced from waste wood. 1951 brought the making of occasional tables. Then in 1956 the acquisitions began of other companies to add case goods and upholstered furnishings. With production of their mid-century-modern furnishings, the company continued to grow and expand until in 1987 it was acquired by Interco, Inc. But, for 75 years the Lane family of Altavista, Virginia ran the business with Edwards son, Bernard Bell (B.B.) Lane, being at the helm at the end. Lane is still to this day a leading U. S. furniture manufacturer.
This rectangular Lane Rhythm Collection coffee table is classic, timeless, and iconic…you simply MUST make it yours!!
Keep in mind warehouse414 items are vintage and not new; they will have signs of use and wear. Please see photos and zoom in for details. We attempt to portray any imperfections.