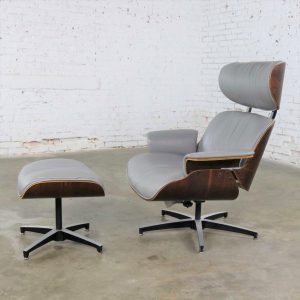 Mid Century Modern Plycraft Lounge Chair and Ottoman in Gray and Walnut
What an outstanding set! This gorgeous Plycraft lounge chair and ottoman will be sure to please the pickiest connoisseur of mid-century modern design. Of course, the original 670 chair and 671 ottoman were designed by Charles and Ray Eames and produced by Herman Miller; but this set produced by Plycraft has become rather sought after in its own right. Some think the Plycraft examples, which are taller and swivel and recline instead of staying in a stationary reclined position, are more comfortable than the Eames original. I think it depends upon how tall you are. I'm 5'4" and love my original. My husband is 6'4" and hates it but loves the Plycraft. This pair done in a beautiful gray faux leather sports no buttons as the original did but does have a 5-star base on the chair and a 4-star base on the ottoman. Plycraft was at the cutting edge of contemporary furniture in the mid-20th century and this is but one example of their incredible pieces. Make this pair yours!
Price: $2,495
SKU: 414-SEA-218
Product Short Description :
Handsome Plycraft mid-century modern lounge chair and ottoman in the style of Charles and Ray Eames famed chair and ottoman produced by Herman Miller. This pair is in gray vinyl and walnut. They are in fabulous vintage condition but not without some age appropriate wear. Please note the scratch in the seat vinyl. We have not seen any other apparent flaws. We suspicion this pair has been previously recovered. Since the photos were taken have added new age correct feet. Please see photos. Circa 1960s-1980s.
Chair:
Height – 40 Inches
Width – 33 Inches
Depth – 30 Inches
Seat Height – 15.5 Inches
Arm Height – 21.5 Inches
Inside Seat Width – 22 Inches
Inside Seat Depth – 21 Inches
Inside Back Height – 26 Inches
Weight – 38.8 Pounds
Ottoman Size:
Height – 16 Inches
Width – 21 Inches
Depth – 17 Inches
Weight – 12 Pounds
Crated Size:
Height – 46 Inches
Width – 39 Inches
Depth – 36 Inches
Weight – 175 Pounds
Additional Information:
Dimensions: N/A
Weight: N/A
MAKER: Plycraft, Inc.
STYLE / PERIOD: MId-Century Modern
MATERIALS: Aluminum, Steel, Vinyl, Walnut
DATE: Circa: 1960s, 1970s, 1980s