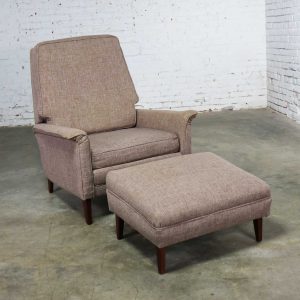 Mid Century Modern Reclining Lounge Chair and Ottoman Style of Wormley for Dunbar
Talk about comfort with style! This just may be the comfiest but best-looking duo I've experienced in a long time. The chair has continual reclining positions so can recline just a little or a lot and everything in-between. Whatever level of comfort your body desires at the time. They are done in the style and quality of Edward Wormley for Dunbar and from the mid-century modern era. But there are small differences such as only wood legs and not a crossbar. And we haven't located an exact example of them for maker verification. Plus, since we believe they were reupholstered at some point in their life, they do not have a tag. No matter. They are wonderful and in fabulous condition. The upholstery is usable; however, we think a new luscious fabric would make this set incredible, so they are priced accordingly. The foam in the cushions is still soft but could use a little fluffing with some additional polly wrap. All in all, if you are looking for a comfy yet stylish reading spot or a great place to view Netflix, look no further. Make this set yours!
Price: $2,495
SKU: 414MAT-SEA-178
Product Short Description :
Handsome mid-century modern reclining lounge chair and ottoman done in the style of Edward Wormley for Dunbar Fine Furniture. Both pieces are in wonderful overall vintage condition. The wood legs have standard nicks and dings you would expect with age but nothing outstanding. The fabric is in excellent condition, but the cushions could use some new batting to make them fluffier. And new fabric would make them fantastic. Please see photos. Circa 1950s-1960s.
Chair:
Height – 36.5 Inches
Width – 33 Inches
Depth Upright – 36 Inches
Depth Fully Reclined – 49 Inches
Arm Height – 20.5 Inches
Seat Height – 16.5 Inches
Seat Inside Width – 23.5 Inches
Seat Inside Depth –21.5 Inches
Inside Back Height – 25 Inches
Weight – 54.9 Pounds
Ottoman:
Height – 14 Inches
Width – 25 Inches
Depth – 21 Inches
Weight – 18.7 Pounds
Crated Size:
Height – 39 Inches
Width – 39 Inches
Depth – 42 Inches
Weight – 220 Pounds
Additional Information:
Dimensions: N/A
Weight: N/A
IN THE STYLE OF: Dunbar, Edward Wormley
STYLE / PERIOD: MId-Century Modern