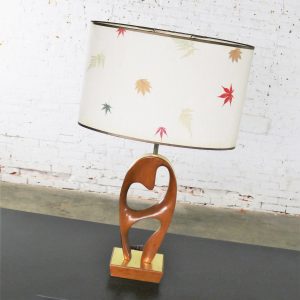 Mid Century Modern Sculptural Biomorphic Walnut and Brass Table Lamp
The falling leaves……drift by my window……Oh! no they aren't. I'm just looking at this incredible lamp shade! I couldn't help myself. But seriously how handsome is this original shade with its scattering of autumn leaves? It is the perfect topper for this very handsome walnut lamp base with its sculptural abstract biomorphic shape and bold brass accents. This gorgeous table lamp is sure to be a showstopper wherever you decide to use it. Just make it yours!
Price: $1,195
SKU: 414-LTG-059
Product Short Description :
Awesome mid-century modern sculptural biomorphic walnut table lamp with brass accents and wearing its original oval shade with scattered leaves. It is in fabulous vintage condition. We have restored the walnut and brass and replaced the wiring, socket, and plug. It is ready to use. Please see photos. Circa mid-20th century.
Lamp:
O/A Height to Top of Shade – 33.25 Inches
O/A Width with Shade – 20.5 Inches
O/A Depth with Shade – 10 Inches
Height to Bottom of Socket – 21.75 Inches
Body Size – 7.5 x 1.75 x 15.5 Inches
Base Size – 7.25 x 5.25 Inches
Shade Size – 13.25H x 20.5W x 10D Inches
Weight with Shade – 7.2 Pounds
Boxed Size:
Height – 36 Inches
Width – 25 Inches
Depth – 15 Inches
Weight – 15 Pounds
Additional Information:
Dimensions: N/A
Weight: N/A
STYLE / PERIOD: MId-Century Modern
MATERIALS: Brass, Walnut
DATE: Circa: Mid-20th Century