Mid Century Modern Yellow Vinyl and Oak Barrel Back Side Chair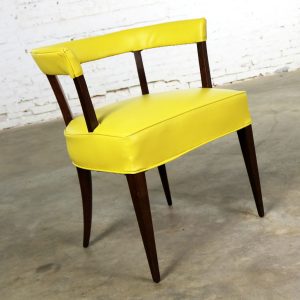 This is a he said she said mid-century modern barrel back side chair! Well not really but we did have quite the discussion about the wood. I thought it might be Macassar ebony because of its color having such a look of rosewood. However, my expert husband says no. It's oak with a rosewood stain. Whatever wood it is it is gorgeous. This interesting chair has a rounded barrel back shape reminiscent of Nanna Ditzel's lounge chair, but smaller in scale. Its gently curving and tapered back legs and tapered front legs somehow remind me of stiletto heels. Making it feel like it could be on the fashion runway. It is a perfect little accent chair and its lemon-yellow upholstery will brighten up any room where it is placed. Maybe in your entryway. Or wherever you need a spark of color and eye appeal. Plus, it is comfortable too. Make it yours.
Price: $1,195
SKU: 414-SEA-162
Product Short Description :
Awesome mid-century modern rosewood stained oak barrel back side chair with its original lemon-yellow vinyl upholstery. It is in fabulous vintage condition with normal wear and tear and no outstanding flaws. Circa 1950s.
Chair:
Height – 29.75 Inches
Width – 26.5 Inches
Depth – 23 Inches
Seat Height – 19.5 Inches
Arm Height – 29.5 Inches
Inside Seat Width – 20.5 Inches
Inside Seat Depth – 18 Inches
Inside Back Height – 11.5 Inches
Weight – 24.9 Pounds Each
Boxed Size:
Height – 34 Inches
Width – 31 Inches
Depth – 27 Inches
Weight – 45 Pounds
Additional Information:
Dimensions: N/A
Weight: N/A
STYLE / PERIOD: MId-Century Modern
MATERIALS: Oak, Vinyl
DATE: Circa: 1950s