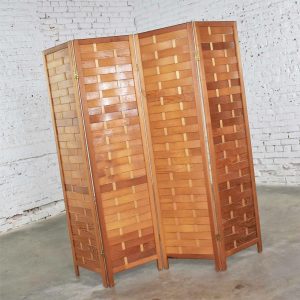 Mid Century Woven Wood Folding Screen 4 Panel Room Divider in Pine
Just look at this gorgeous folding screen! It will look perfect wherever you use it and, frankly, whatever your style. Comprised of thin two-inch wide pine strips that are woven horizontally inside four pine frames creating a privacy screen. Each panel is connected by brass double action hinges so the panels can fold either way offering many combinations of use. Use it in small living space to separate the dining room from the living room and provide a gorgeous backdrop for beautiful lounge chair and ottoman. Or put it in the corner of a dining room to disguise yet another corner with a large potted plant and table placed in front. Don't hesitate. Make it yours now.
Price: $1,795
SKU: 414-MSC-028
Product Short Description :
Handsome pine woven wood mid-century folding screen 4-panel room divider. It is in wonderful vintage condition. Please see photos. Circa mid-20th century.
Screen Size:
O/A Height – 64.25 Inches
Width Fully Extended – 68 Inches
Depth Fully Extended – .75 Inches
Width Each Panel – 16.75 Inches
Width Folded as Photographed – 54 Inches
Depth Folded as Photographed – 12 Inches
Weight – 15.3 Pounds
Boxed Size:
Height – 68 Inches
Width – 21 Inches
Depth – 7 Inches
Weight – 20 Pounds
Additional Information:
Dimensions: N/A
Weight: N/A
STYLE / PERIOD: MId-Century Modern, Scandinavian Modern
MATERIALS: Pine
DATE: Circa: Mid-20th Century